Bansek, Cheryl
Cheryl Bansek – (2010)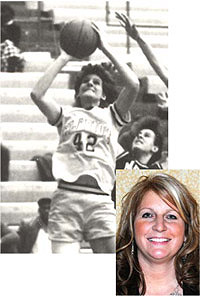 One of the most prolific girls basketball players to ever perform on the hardwood at Lorain Admiral King High School, Cheryl Bansek starred for the Admirals in the 1980's and her performance during a four year high school career resulted in elevating the girls basketball program to elite levels. The 1985 Admiral King graduate is currently ranked in the school's Top Ten career records in scoring, rebounding and blocked shots. Cheryl's outstanding performance was recognized as she was named to the All-Buckeye Conference Team each of her four years. She was named Honorable Mention in her Freshman and Sophomore years, Third Team as a Junior, and First Team as a Senior. She also earned All-District Team Honors in her Junior and Senior years. During her tenure, the varsity team compiled an 80 won – 16 loss record, winning four league titles and one District championship. She has been a part of the four twenty-win seasons in school history, three as a player and one as a coach.Cheryl concluded her high school career with the distinction as the Most Outstanding Player in school history.

Bansek was awarded a scholarship to continue her basketball career at Clarion University of Pennsylvania. As a four year starter, she led the Golden Eagles to their first conference title in school history in 1987 and repeated again in 1988 while establishing numerous school records. She established a single season rebounding record with 272, and a single game record with 26 rebounds. In her senior season, she led Clarion with 13 points per game and 8.9 rebounds. Cheryl completed her collegiate career ranked second in scoring with 1,049 points and first in both rebounding and blocked shots. She was a four time All-Pennsylvania State Athletic Conference selection.

Cheryl's outstanding collegiate career was recognized with her induction in 1995 into the Clarion University Sports Hall of Fame.

Bansek continues to be a leader on the hardwood as a coach and mentor. She returned to her alma mater and has built a very successful girls basketball program at Admiral King High School.