Biber, Paul
Paul Biber – (2010)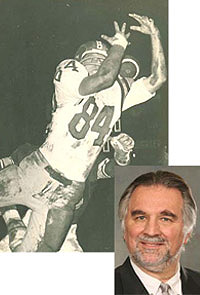 Paul Biber had a tremendous athletic career at Admiral king High School as a football, basketball and track star. He earned six varsity letters with numerous honors including receiving Honorable Mention on the All-Buckeye Conference Football Team.

After graduating from the University of Toledo in 1970, Paul returned to Lorain and took a position as a teacher in the Lorain City Schools and joined the Admiral King football program where he served in various coaching roles from 1970 to 1978.

In 1977, Paul was named Head Girls' Basketball Coach at Admiral King High School which was the start of a 28 year career in which he built the program into one of the most respected programs in the State of Ohio. Paul compiled a career record of 351 wins and 265 losses. He had a stretch in which his teams compiled twelve consecutive winning seasons.

Paul's teams won Buckeye Conference championships from 1981-1987 and an Erie Shores Conference title in 1991. Sectional Championships from 1981-87, 1991, 1999, 2001 and 2002. District Runner-Up in 1981, 1983-87, 2003, and District Champions in 1982. During this span Paul was named

Lorain County Coach of the Year on nine different occasion, 1981-87, 1991, 2001 and 2002. Buckeye Conference Coach of the Year seven consecutive times from 1981-87 and Erie Shores Conference

Coach of the Year in 1991.

He is a charter member of the Lorain County Girls Basketball Coaches Association and was inducted into the Lorain County Girls Basketball Association Hall of Fame.

While a majority of Paul's career was spent coaching girls basketball, he also was the Head Boy's Basketball Coach for the 2003 and 2004 seasons, Assistant Softball Coach 2002-03 and helped develop youth basketball programs for 4th-6th grade students from 1998-2005. From 2003-2009 he coached high school AAU boy's basketball.

Paul retired from teaching in 2006 after 36 years in the Social Studies department at Admiral King High School. He is currently teaching history at LCCC and was elected in 2007 to the Lorain Board of Education, Lorain City School District.