Billick, David
David Billick – (2008)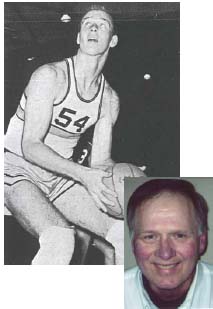 Dave Billick was a multi-sport athlete for Lorain Admiral King High School from 1961 to 1964, excelling in both football and basketball for the Admirals.

On the gridiron, he was a three-year letterman, playing at offensive end and defensive tackle for Coach Tony Misko. Dave was a dependable, durable player and was named to the All-Buckeye Conference Defensive 2nd Team in his Senior year.

Basketball, however, was Billick's dominant sport. It is for these accomplishments on the basketball court that we welcome him into the Lorain Sports Hall of Fame.

The imposing 6ft. 8in., 250 pound pivot man was a two-year varsity letterman for the Admirals under Coach Al McConihe. As a junior, Dave led the team in scoring with a total of 232 points for an 11.4 average and also garnered a total of 219 rebounds. He was named to the Buckeye Conference All-Star Honorable Mention Team.

Billick came into his own during the Senior year. He led the Buckeye Conference in scoring with a total of 392 points for a 23.5 average per game to go with 272 rebounds. Dave was a unanimous selection to the Buckeye Conference All-Star 1st Team and was also named to the United Press Class AA All-Ohio Honorable Mention team.

Billick extended his basketball career to the collegiate level by accepting a scholarship from Kent State University to play for Coach Bob Doll. He played on the KSU freshman team during the 1964-65 season and quickly demonstrated his talents and potential for a promising future. As a sophomore, with developed offensive and defensive skills, he became the starting pivotman and was a team leader in several categories.

Unfortunately, Dave had long experienced painful sacroiliac and arch support physical distress, and the chronic conditions resulted in his decision to terminate his basketball career after the sophomore season.

Dave and his wife Patricia have two adult children and four grandchildren. He is associated with American Engineering and Manufacturing Company as a Manufacturing Support Coordinator.