Clinkscales, Thomas
Thomas Clinkscales – (2009)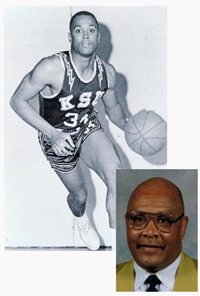 Thomas Clinkscales was one of the first and best multi-sports athletes to graduate from Admiral King High School. Tom as a member of the second class (1963) to graduate at Admiral King and the standards he set are still there today.

As a football player, Tom was one of the best in the area. He was a two year letter winner. It was Tom's ability to play multiple positions (quarterback, defensive back, end and punt returner) that helped the 1962 Admirals achieve great success. That team is enshrined in the Lorain Sports Hall of Fame, thanks to players like Tom Clinkscales. His senior year Tom was voted Second Team All Buckeye Conference Defensive Back and Honorable Mention All Ohio.

Basketball was Tom's true love. As a freshman at Clearview High School, Tom played on the JV and Varsity Teams. The following year as a sophmore at Lorain High School he also played on the JV and Varsity teams.

During his junior and senior years, Tom was a mainstay on the varsity basketball squad. He was Admiral King's leading scorer averaging 16.4 points per game and the third leading scorer in the Buckeye Conference at 16.8 points per game. He was a two year letter winner and was named First Team All Buckeye Conference and Honorable Mention All Ohio. While at Admiral King Tom played for two Hall of Fame coaches, Tony Misko and Al McConihe.

Tom was also a fine student, in his senior year he served as Vice-President of the National Honor Society. Upon graduation from Admiral King, Tom went to Kent State University on a basketball scholarship. From 1964 to 1967 he started for the Flashes and was a three year letter winner.

During his senior year, Tom was named co-captain of the team. At the end of the season he was named the team's MVP. During a recent interview Tom's college coach Frank Truitt said the following, "Tom was our captain, he was a great leader by example. Nobody worked harder than Tom." Coach Truitt also said Tom was a great competitor.

Tom graduated from Kent State with a BS and a Masters in Education. He went on to a 30-year career coaching basketball, including three years at Admiral King on Mitch Gillam's staff.

Tom retired in 2007 after 30 years of coaching and 30 years of teaching in Ohio and Michigan. Tom and his wife, Maxine, reside in Toledo, Ohio.