Craig, Hal
Hal Craig – (2010)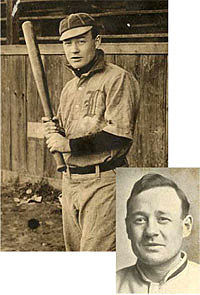 Harold (Hal) Shields Craig began to develop into a fine baseball player during his childhood in Pardoe, Pennsylvania. In 1903, when he was seventeen, Hal's family moved to Lorain, Ohio. After several seasons as a catcher on Lorain teams, he acquired a reputation as one of the finest catchers in the history of the city. Stan Morgan, the long-serving and highly respected umpire, named Hal to his "All-

Time Lorain Stars." In 1911, Hal decided to try out for the "Diggers" professional baseball team from Marion, Ohio. At that point in time, when he made the roster and signed a contract with "The Marion Base Ball Company," Hal became one of the first professional baseball players ever to come from Lorain. After four years of playing pro ball Hal earned a reputation as a great hitter and outstanding catcher.With the onset of World War I, Hal enlisted in The United States Army and served in France. After returning home, he became involved with the American Legion where he turned his passion for baseball into pioneering American Legion Baseball in Lorain. Serving as the team's manager, Hal led the 1931 Legion team to the District League Championship. During his ten years as manager Hal developed many outstanding players who went on to play in the strong Class "A" League which included several of Lorain's best players of all time, some of whom are enshrined in the LSHOF.

Hal became Commander of the Lorain American Legion Post in 1923. He was also co-founder of the Legion sponsored Toy Workshop which engaged volunteers to renovate toys for the Lorain Salvation

Army to distribute at Christmas time to children of laid-off Lorain workers. As an act of gratitude for his many contributions, the Legion made Hal a "Life Member of Lorain Post No. 30".

In 1923, Hal was appointed "Sanitary Policeman", (Health Commissioner) for the city. He continued serving the citizens of Lorain in this capacity until his retirement in 1963 at the age of 77.

The legacy of Harold Shields Craig is one of baseball talent, dedication and service to his country, distinguished public service to his hometown of Lorain, and American Legion leadership.

Hal's wife was the former Anna Murray. They are survived by their children: Patricia (87), Murray

(89) and Paul (84). The families live in Massachusetts, Ohio and Virginia, respectively.