Donate
_______________________________________________________________________
Donate, be a part of the new LSHOF Museum
The Lorain Sports Hall of Fame is seeking donations from the public to cover the cost of moving and displaying our collection at our new museum site in the new Lorain High School, as of Aug. 1, 2016. Our current museum site at the St. Joseph Community Center will not be available much longer, necessitating our move. Donors names will be prominently displayed at the new museum.
The Lorain City Schools Board of Education has generously leased the high-profile space to the LSHOF for $1 a year. But the LSHOF Museum Committee needs to raise approximately $20,000 to pay for reconfiguring its displays plus other expenses for outfitting the new museum, including multimedia displays.
Initial donations have put the LSHOF well on the way to its fundraising goal, but more is still needed. Individual, group and corporate donations are welcome. For questions, call Ted Driscol, Museum Chair, at 440-984-2802.
Here's how to donate online or by mail:
DONATE ONLINE
To make a donation securely online by credit card, click the PayPal button below. You don't need a PayPal account to donate.
— OR —
DONATE BY MAIL
Checks should be made out to Lorain Sports Hall of Fame and mailed to:
Lorain Sports Hall of Fame
New Museum
PO Box 723
Lorain, OH 44052
__________
The Lorain Sports Hall of Fame Museum is to be located behind this glass wall at the new Lorain High School. — at Lorain, Ohio.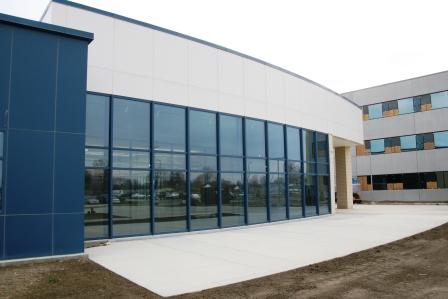 Thank you for your generous support! We look forward to seeing you visit the new Lorain Sports Hall of Fame Museum later this year to learn more about Lorain's long, outstanding heritage in high school, college and professional sports. The Lorain Sports Hall of Fame was founded in 1969. Our collection includes plaques highlighting more than 400 athletes and teams.
In its easily accessible new site inside Lorain High School, the LSHOF museum will multiply its value as an educational and inspirational resource for Lorain's youths. Displays will include plaques with information and pictures of the LSHOF inductees, both individuals and teams, numerous historical photos, plus trophies, jerseys, helmets and other memorabilia.
The museum will also better serve members of the general public, so many of whom have personal ties to the great athletes and teams in the city of Lorain, including Lorain High School, Lorain Admiral King, Southview, Clearview High School, Lorain Catholic High School and St. Mary's High School — all of which are represented in the Lorain Sports Hall of Fame Museum.
The new museum will be open to the public for free during regular daytime hours as well as evenings during sporting events and other special events at Lorain High. Specific days and times will be announced.