Doré III, Tony
Tony Doré III – (2011)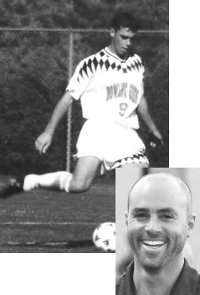 Tony Doré started playing soccer at the age of five for youth teams coached by his father Tony Doré Jr., who was heavily involved in his development through his high school years.At the age of ten, he joined the P.A.C.C. Travel League team coached by Hall of Fame coach Dave Thomas and continued to display exceptional skill. At the age of thirteen he was selected to the Ohio Development State Team and participated until age eighteen and was then selected to play on the (U23) Regional Team.

Tony continued his development at Lorain Catholic High School, coached by Dave Thomas, leading the Spartans to a 54 and 19 four-year record. He was a four-year letterman, senior captain, and received numerous honors including being named to the All-North Coast League First Team two times, North Coast League MVP and Second Team on the Greater Cleveland Soccer Team his senior year.

After graduating from Lorain Catholic in 1993, Tony accepted a soccer scholarship from Bowling Green State University to continue his career. He was a four-year starter and letterman for the Falcons and led the team his senior year to the Mid-America Conference Championship as they were ranked tenth in the nation by the NCAA. Tony was name to the All-MAC First Team and received the Tony Consiglia Award, given to the team's top player. He was named to the NCAA Championship All-Tournament Soccer Team to conclude his career.

After completing his college career at BGSU in 1996, Tony was drafted in 1997 as a third-round pick of the Columbus Invaders team of the National Professional Soccer League. He became the first player from Lorain to play professional soccer when he signed with the indoor Cleveland Crunch Team of the NPSL and played for them in the 1997 and 1998 seasons. He also played two years with the outdoor Cleveland Caps of the United States International Soccer League.

Tony has been the Head Soccer Coach at Lakewood St. Edwards High School since 2001 and earned his 100th victory last season as the Eagles coach.

During the off-season, he works with youth soccer players from Northeast Ohio and operates his custom team uniform business in Westlake, Ohio.