Gladden, Jamie
Jamie Gladden – (2011)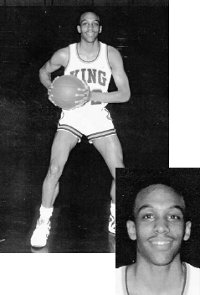 By any measure Jamie Gladden had extraordinary basketball careers at both Admiral King High

School and Xavier University.As a junior, he was one of the key members of the 1987-88 Admiral King High School which lost in the state finals at Columbus. During that year, he averaged 17.8 PPG and scored 462 points for the year, which at that time was the tenth highest single season point total for the Admirals. His accuracy from the field was 57% from the two-point range, 37% for threes and 79% from the foul line.

In Jamie's senior year he scored 554 points, the third highest single season in school history while averaging 23.1 PPG. His shooting accuracy was virtually the same as the previous season. The team was Erie Shore Conference Co-Champions, Sectional Champs and District Runners Up. His outstanding play carried the team to a third place ranking in the final AP poll.

Jamie was named to the First Team in the North East District, All Lorain County, All Erie Shore Conference and also earned recognition as an Associated Press and United Press International First Team All State member. He was also awarded the title of Lorain County's Mr. Basketball.

For his high school career Jamie was a three-year letterman, scored in double figures in 50 consecutive games and is currently fourth in school history for total points scored.

Jamie took his outstanding high school game to Xavier University where he played from 1989-1993. As a four-year starter and letterman he started in 121 consecutive games playing in a Division 1 basketball program, an outstanding accomplishment. He led the team in scoring in his sophomore and junior years and was second in his senior year. He was ranked seventh in career scoring. Jamie was a two time Tri-captain and a member of the 1000 point club.

Jamie was named to the All-Midwestern and Basketball Weekly First team in 1991, 1992 and 1993.

One of his many highlights was playing in the NCAA Basketball tournament in 1990 when the

team advanced to the Sweet Sixteen and Jamie averaged 13 PPG during those games.

Jamie was inducted into the Xavier University Sports Hall of Fame in 2001. He and his wife LaTricia and two children currently reside in Atlanta, Georgia.