Gray, Thomas
Thomas Gray – (2008)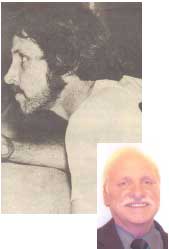 It's safe to say that Lorain boxing trainer Tom Gray has been viewed by more ring fans than any other conditioner in the long and illustrious history of Lorain County sports.

Over a near 15-year period that began in 1986, Gray's rugged professional boxer-brothers, Carl "Stuff" Griffith Jr. and Mike "Hammer" Griffith, appeared and won a good percentage of their fights while being seen on Pay Per View (PPV),

HBO, ESPN, ESPN2, Pay Per View in Europe, USA Network and the Spanish Television Network, among other TV outlets.

Gray trained Carl Griffith (28-2-2) from amateur to pro and went on to make him the International Boxing Congress World champion, as well as the United States Boxing Association World champion. Mike Griffith (23-8-0) got nearly as far, winning the IBC America title and also battling for the IBF World crown. Among the "big names" who fought either Carl or Mike during this period were Oscar De La Hoya, Paul Spadafora, Livingston Bramble, Harry Arroyo, Dezi Ford, Sergei Artemiev, Shey Neary and Roger Mayweather.

Gray believes the $30,000 Mike Griffith earned for losing to Spadafora on a 10th round TKO shown on HBO from Pittsburgh Civic Center in May 2000 was his pro stable's biggest payday. The Griffith brothers actually hailed from Sheffield Lake, but because Gray resided in Lorain and his gym was located in the Steel City, all of Gray's boxers over the years used Lorain, Ohio, as their home town with the media.

While in the pro ranks, Carl Griffith usually fought at 135 pounds, while Mike Griffith more often than not weighed more than his older brother. Gray feels that Mike weighing only 134 pounds against Spadafora eventually hurt him against the "Pittsburgh Kid."

Professional fights involving Gray's stable took them near and far, the Graymen traveling to Canada, France, Germany, Ireland, California, Florida, Nevada, New Jersey, New Mexico, New York, Pennsylvania, West Virginia etc. Eventually, just about everyone in the sport knew who Tom Gray was and what he stood for — hard work, integrity and loyalty to his boxers.

And Gray, born during World War II (1944) and a graduate of old Lorain High School, was no "Johnny-come-lately." He started out as a novice flyweight under Lorain Sports Hall of Fame trainer Pete DeSantis during the 1958-59 season when he was barely of high school age. Tom admits that he "wasn't too good in the ring" but knew he had a friend and mentor in DeSantis and "wanted to stay in the sport somewhere because I really liked it."

Tom began helping Pete and other head trainers during a long string of Lorain Golden Gloves tourneys from 1961-78 when they were hosted by the Lorain Youth Center or Lorain CYO Center located on Route 58 and were directed by late Lorain Sports Hall of Fame member Mike Bulzomi, himself a good trainer in his day.

Tom then got an assist from a local businessman-boxing fan in 1979 when the late Carl Gumina financially helped Tom open his own training site in the abandoned fire station then located near 18th and Broadway. "Carl Gumina was a great guy. That (1979) was a pivotal year in my career," says Gray.

Later when the fire station was closed to build a commercial business in the same block, Tom trained boxers in the basement of the old Smith & Gerhart Building in downtown Lorain. Of course there was a time earlier when Tom had to train boxers in the basement of his own Lorain home!

Among Tom's top boxers in the local Golden Gloves who distinguished themselves at the District and Regional level were Melvin Ricks, Cleveland Watkins and Rick West. Gray won many Novice and Open division amateur trainer awards, so many he is not sure of the count. Tom brought more prestige to Lorain when he directed the 1984 Ohio State Silver Gloves here.

Tom's dedication is also shown in the bowling business at Rebman Recreation where Gray

has long served as a bowling machine mechanic. Tom currently still resides in Lorain.