Hartman, Michael
Michael Hartman, 2012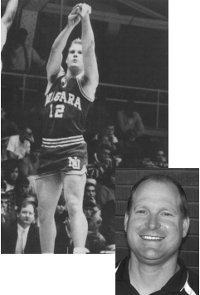 He was a major contributor, as a tailback, on the Longfellow undefeated football team. Upon entering Lorain High School in 1985, Mike played on the freshmen basketball team which recorded a 20-win 0-loss season; and, was a member of the starting squad on the football team as a sophomore. He sustained a broken neck during that season which ended his football participation. Consequently, Mike's main focus became basketball in order to further his athletic career. During his four years at LHS, he also lettered in baseball and track.
During Mike's junior year as a basketball player, he was honored with three First-Team selections: All-Erie Shore Conference, All-Sectional, All-Lorain County; and, was named Steelman Defensive Player of the Year.
As a senior, Mike accumulated a remarkable number of honors and achievements, including the following First-Team Awards: All-Erie Shore, All-Sectional, All-Lorain County, and, All-N.E. Ohio District. In addition, he was a McDonalds All-American nominee, awarded the title of "Lorain County Mr. Basketball", was the Danny Award winner, and was recognized as Special Mention All-Ohio. Additional awards reflect his unselfishness as a "team player"; and, as a person with a high level of character; Mike was the single-season, and career-assist leader-statistics that speak for themselves. As a recipient of the J. Ed Uland Award in 1989, he was recognized as the most outstanding senior athlete in the city who has exhibited excellence in academics, athletics and school/community service.
Niagara University, a Division I school, offered Mike a full scholarship to play basketball. As a freshman, he had a very solid season as he was named "Player of the Game" twice by Adelphia Cable Co., which broadcast the games. Mike, also, was honored by being featured on the cover of one of the Niagara University basketball programs. Back problems began to develop for him during the three remaining years; however, Mike was determined to continue playing and contribute to his team. He received letters in all four years; and, was honored by being named co-captain his senior year.
Mike, currently, lives in Altoona, Pennsylvania with his wife, Debbie, and their two children, Sarah and Matthew. He is employed by Riddell All-American Sport Corporation, in Pennsylvania.
And so, with the election of Mike Hartman into the Lorain Sports Hall of Fame, the Hartman family legacy of outstanding athletic honors and achievements continues to grow. He joins his father, Carl, and his brother, Chris, who both preceded him as Lorain Sports Hall of Fame inductees.