Hodan Szente, Lynne
Lynne Hodan Szente – (2009)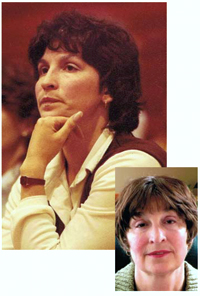 Lynne Hodan Szente has played an integral part in shaping women's athletics in the city of Lorain for the past 30 years. She, herself was an accomplished athlete, participating in high school gymnastics, and college volleyball and basketball.

Her coaching tenure included gymnastics, softball, track and most notably women's volleyball. Lynne was the only person to hold the position of varsity volleyball coach at Lorain High School from its inaugural season in 1973 until the closing in 1995. That's 22 years of Lynne successfully leading the Lady Steelmen in accomplishing eight Sectional Championships, four District Championships, two Regional Championships, and seven Buckeye Conference Championships. Two seasons in particular culminated in appearances by her teams in the Ohio High School Volleyball Tournament at the State level (1975 and 1978).

Following the closing of Lorain High School, Lynne continued her legacy at Lorain Admiral King coaching until 1997. While at Admiral King, she attained the rare distinction of 300 career wins. This is an honor held by few coaches in Ohio.

After her departure from coaching volleyball, Hodan Szente made the transition into officiating the sport. Lynne was also co-athletic director of the Lorain St. Mary Academy's CYO program and often participated in supervising many of the games. And all of this plus raising five active children at home with husband Tim.

With all of these athletic accomplishments, Lynne is an athlete second and an outstanding individual first. She has groomed many young ladies to successfully compete on and off the field. Her influence has helped numerous girls continue both academically and athletically at the college level. Holding a fulltime teaching position, coaching multiple seasons and multiple sports, continuing her own education in receiving a master's degree and raising a large family made her a tremendous role model for the hundreds of young ladies she has taught and coached in the city of Lorain.