Hudak, Joseph
Joseph Hudak – (2011)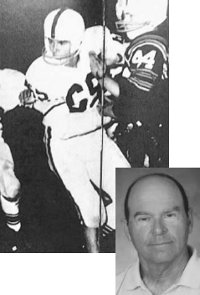 During his high school days at Lorain High, Joe was a letter winner in both track and football. He was another outstanding lineman developed by the Lorain High coaching staff.

In his senior year he received recognition as First Team All-Buckeye Conference and was named to the Second Team UPI All-Ohio Offensive Team. A hard hitting offensive guard, Joe was an outstanding technician. And on defense he was a tenacious lineman. During his high school career Joe also excelled on the track team competing in the shot put and discus.

Joe continued his athletic career at Western Reserve University from 1963-1967 where he earned two letters in track, one in wrestling and, once again, his primary attention was directed to football. He was a starter for three years at linebacker on the football team and was named co-captain his senior year.

After graduating in 1967 with a B. A. in Education, Joe continued his involvement in athletics working as an assistant coach at Western Reserve for three years in football and wrestling and one year with the baseball team. This allowed him to complete his Masters Degree in Physical Education.

Upon completion of his degree program he relocated to Coral Gables High School in Florida in 1979 where Joe served twenty-one years as head wrestling coach and thirty seasons as an assistant football coach.

His wrestling teams compiled an impressive record with five district team championships, and he holds the school records for most wins in a season (14) and for career wins with 170. Jimmie Simpson, who coached Joe at Lorain High and who was reunited with him as a coach at Coral Gables said that Joe is "one of the most dedicated and hard working" men he has ever known and "a terrific asset to the school."

Joe has been married to his wife Kathy, a 1964 graduate of Admiral King, for forty-two years. They have two adult children, residing in Miami.

Joe continues to teach physical education at Herbert Ammons Middle School in Miami, Florida.