Humphries, Aliceson
Aliceson Humphries – (2008)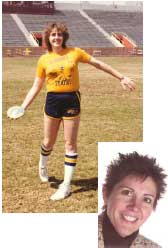 Aliceson Humphries participated in a variety of sports during her athletic career at Admiral King High School. From 1980 through 1984 she earned varsity letters for four years in track, three years in tennis, and two years in basketball.

In addition to her varsity letters, Ms. Humphries earned the "Most Valuable Player" awards in tennis and track during her junior and senior years. In track, she was also named the "Player with the Most Field Points" during her sophomore, junior and senior years. She also received the "AKHS Coaches Choice Award" during her senior year.

Her individual contributions to the track team allowed the Lady Admirals to capture first place in the Buckeye Conference League and first place at the Class AAA Regional Track Meet in 1983. Aliceson set many school and conference records in the shot put and discus events. She competed twice at state-level competitions and during her senior year placed fifth in state in the shot put. Aliceson continues to hold the 1984 record for throwing the discus at 134 feet and 3 inches.

During the summer months, Aliceson participated and excelled in AAU/Junior Olympic Track competitions beginning in 1981 through 1983. In addition to throwing the shot put and discus, she competed in the hammer throw and javelin events.

In addition to excelling in sports, Aliceson was an honor roll student, a National Honor Society inductee and an exemplary vocal music and visual arts performer.

After earning an athletic and academic scholarship to Walsh College, Aliceson participated in track, throwing the shot put and discus for one year. In 1985, she earned the "Outstanding Individual Performer" award at Walsh. In 1986, Aliceson received an athletic scholarship to Bowling Green State University where she threw the shot put and discus for the Falcons.

Aliceson received a B.S.and Master's Degree in Education from BGSU. In 1990 she joined the Bellevue City School District as a teacher and coach. During her six year tenure in Bellevue, she coached varsity tennis, junior varsity track and junior varsity softball.

In 1996, Aliceson joined the Lorain City School District as a teacher of special education students and coached track, volleyball and basketball for four years. Aliceson continues to be actively involved in the Lorain City's athletic programs and youth by working as the principal at Whittier Middle School. Aliceson was a remarkable student athlete and today she is an extraordinary role model for today's youth.