Livchak, Connie
Connie Livchak – (2008)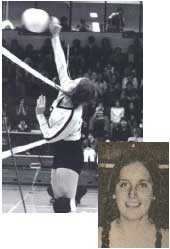 Connie Livchak was in the right place at the right time when Title IX, the school supported athletic programs for females was finally mandated and Connie immediately took advantage of the opportunity to compete as a freshman.

She attended Lorain High School from 1974-1978 and earned thirteen varsity letters and one junior varsity letter during that time.

In tennis, she earned three varsity letters and was the team's #1 singles for two years, and was the second seed in the Buckeye Conference season ending tournament in her senior year. She continued playing tennis on the courts in the summers in Lorain and was part of a doubles team that won the sixteen and under championship in the International Festival Tennis tournament in 1976 and finished first in the eighteen and under class in the same tournament in 1978.

As a softball player, she played and lettered as the centerfielder. In basketball, she earned one junior varsity and two varsity letters.Connie was on the track team for three years and ran the 220 yard dash and was also a member of the 440 and 880 relay teams. She lettered for three years.

Volleyball was where she really excelled; playing four years, lettering in each year and being named co-captain in her senior year. The1975 team, of which she was a member, won the Buckeye Conference Championship, District and Sectional tournaments and advanced to the Class AAA "Final Four". In the very first statewide volleyball high school play-offs for women they lost to a Cincinnati team in the semi-finals. Her 1977 team was also a district champion.

Connie continued her volleyball career at Bowling Green State University where she was one of their first female recruits. She played and lettered four years and was co-captain her senior year. During that time, she also attended Junior Olympics Sports camps and was a member of a U.S. Volleyball Association Travel Tournament team. After college, she and her BGSU teammates successfully competed in several USVBA tournaments.

Connie displayed leadership qualities throughout her athletic career and is most proud of her team's achievements, not personal recognition. She continues to use the life lessons learned from athletics.

She earned both a Bachelor's of Science and Master of Science degree in Geology from Bowling Green State University.

She lives in Huron with her son Luke and has started her own Environmental consulting firm, Eco Geological LLC, specializing in Lake Erie shoreline issues and environmental cleanups. She has also been an Adjunct Instructor at BGSU-Firelands.