Locher, George
George Locher – (2010)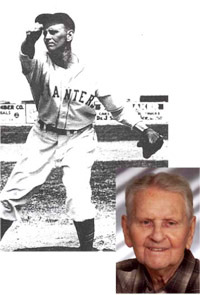 George Locher attended Clearview High School and although he did not participate in scholastic sports, he did develop an early reputation in sandlot baseball as a pitcher and position player with superior skills. In 1942, as an 18 year old high school junior, he was voted by the fans to an All-Star

team that would play an exhibition game with the Great Lakes Naval Training Station team, whose roster included several major league players and was managed by Mickey Cochrane.Locher was drafted into the U. S. Army during his senior year in high school and played with the Ft. Lee Va. 12th Regiment team in 1943 before being assigned to an engineers battalion that served in the Far East.

After receiving his military discharge in November 1945, George returned to Lorain and resumed his baseball career in 1946 with the Class "A" league Kirby Cleaners team and again was a team leader. He then signed a professional contract for the 1949 season with Clarksdale, Miss. Planters, an independent Class "C" team, where he was used as a relief pitcher and compiled a 6 – 8 record. Returning to Clarksdale for the 1950 season, George became a starting pitcher compiling a record of 13 – 8 and was named to the Cotton States league All-Star team. In July, 1950, his contract was purchased by the Chicago White Sox and he finished the season with Superior, Wisc. in the Northern League.

Locher was inactive professionally during the 1951 season due to a contract dispute with the White Sox. The contract dispute was resolved for the 1952 season and George resumed his career at Superior, Wisc. in the Northern League where he sustained a shoulder injury that affected his pitching ability. The White Sox sold his contract to warm weather Abilene, Texas, however the injury did not heal and George made the decision after the 1952 season to retire from professional baseball at the age of 28.

He returned to Lorain and resumed his play in Class "A" baseball as a hard hitting outfielder and occasional pitcher on several championship teams including National Tube Company, Lorain Glass and Ed's Indians. He then moved on and played Industrial League softball from 1956 to 1965.

George retired from B.F. Goodrich in 1986 and resides in Lorain.