Gormley, Michael

Michael Gormley
Mike Gormley stated his athletic career in 1959 at St. Mary High School where he was a two-sport star, earning two varsity letters in both basketball and baseball.
On the court, he became a starting forward as a junior for Coach George Simonovich's high scoring St. Mary team. Mike became the third-leading scorer with a 14.0 ppg. average for the 16-5 Irish, who went on to win the North Central Conference (NCC) championship. He was named to the All-NCC First Team.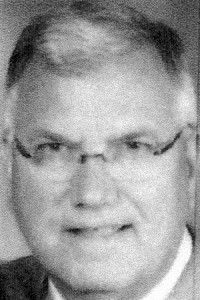 Gormley's senior year play cane under first-year Coach Jim Lawhead at St. Mary. The new upbeat offensive style increased his scoring to an average of 19.7 ppg. which led the NCC and was runner-up for the Lorain County scoring title. He led the Irish team with a season total 426 points and again was named to the All-NCC First Team and UPI All-Ohio Third Team.
Gormley played two years of baseball as a pitcher and center fielder and was the second-leading hitter with a .395 batting average with 15 RBI. His senior year team won the District tournament, but lost in the Regional semi-finals.
After graduating from St. Mary in 1963, Mike found it necessary to work in industry for two years before continuing his college education. He received an opportunity in 1965 and enrolled at St. Procopius College in Lisle, Illinois, where he continued to play both basketball and baseball.
Mike was a four-year letterman in basketball with a career average of 18.1 ppg. and a total of 1,576 points. He was named team captain/co-captain in both his junior and senior years.
In baseball, he was a three-year letterman, played center field, and batted .390 his senior year. Mike was voted team MVP, named to the All-Conference team and was selected to the Chicagoland college baseball All-Star team.
Gormley was the recipient of the prestigious St. Procopius 1968 Sports Award given to a student who distinguishes himself as an excellent athletic performer, a true sportsman and leader and good scholar.
After graduating in 1969, Mike taught in the local school system until he returned in 1972 to his alma mater as the Head Basketball Coach. After the 1973 season, he resigned his coaching position and accepted an administrative position with the Darien, Illinois, school system. Mike retired in 2003 from education after long term service to the community.
Mike, his wife, Karen, and family currently reside in Woodridge, Illinois.