Mishak, Michael
Michael Mishak, 2012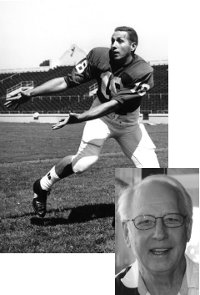 Mike was, also, a tough basketball player. His best game, offensively, was against the state 7th-ranked Lakewood Rangers, scoring 15 points, primarily, by driving to the basket. His leadership and respect accorded him by his coach and teammates led to Mike being named captain of the team.Mike became a standout two-way starter on the 1958 and 1959 football teams as an offensive end, linebacker; and, served as the team's punter. The LHS 1959 Buckeye Conference Tri-Champions had a very strong running and passing game. Mike helped lead the way with 16 receptions for 351 yards and three touchdowns. His steady performances at linebacker and defensive end contributed to a quick and aggressive defense which stymied opponents. Mike's achievements and awards earned during his senior football season were as follows: Buckeye Conference First-Team All-Star, named by United Press First-Team All-Ohio; and, Columbus, Ohio Jr. Chamber of Commerce All-Ohio. He led his team in receptions with 16, and had a punting average of 43 yards.
After graduation, Mike earned a full scholarship to play football for the University of Detroit, a Division I school that played a tough schedule which included the Army and Navy Academies. During his career at the University of Detroit, Mike played offensive end, and, served as the team's punter and kicker.
Mike and his wife, Sandy, reside in Lorain. They have three children and thirteen grandchildren. He retired from B.F. Goodrich after forty-three years; and, enjoys traveling, family activities, deer hunting and fishing.