Parker, Phil
Phil Parker – (2009)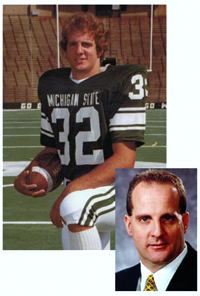 Phil Parker attended Amherst Steele High School from 1979-1983 and quickly demonstrated a very high level of football skills. According to former Amherst Steele High footbal coach Bob Boynton, Phil Parker was the "finest player that he had ever coached." A versatile athlete who excelled in all aspects of the gridiron, Parker played quarterback and tailback on offense, returned punts on special teams and defensively led the team in interceptions. His ability to block, run and catch the football made him the most complete football player ever to play for the Comets.

The 1983 Amherst graduate led the team in touchdowns and rushed for 1,174 yards accumulating numerous honors along the way. He was First Team All-District, Third Team All-Ohio, First-Team All Lakeland Conference and First Team All-Lorain County. He led the team in tackles and tied the team record with 15 interceptions. These accomplishments earned him a full scholarship to the Big Ten Michigan State Spartans.

While at Michigan State, Parker was selected All-Big Ten for three years and was team Most Valuable Player twice. He received numerous other honors throughout his career. He was selected the 1984 Devensive MVP in the All-American Bowl, received the 1985 Downtown Coaches Award and had the honor of playing in the 1986 Hula Bowl. He also was awarded the Chevrolet Player of the Game on a couple of occasions in Big Ten competitions. He ended his collegiate career with 16 interceptions which at that time ranked third in Michigan State History.

After graduating from Michigan State in 1986, he became a graduate assistant for the Spartans, and helped coach them to a victory in the 1988 Rose Bowl against Southern California and then spent 11 years coaching at University of Toledo. While at Toledo, he coached 10 All-Conference players and won two division championships. Subsequently he was hired by University of Iowa to coach the defensive backs. Phil quickly earned the reputation as an outstanding defensive backs coach by his peers.

Phil continues as an assistant coach and resides in Coalville, Iowa with his wife Sandy, son Tyler and daughter Paige.