Polito, Frank
Frank Polito – (2011)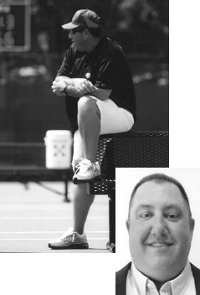 Frank began his career at Admiral King High School in 1982 where he earned four varsity letters in tennis. While tennis is an individual sport, Frank always remembered how his high school coach and mentor, Frank Hicks, taught the game as a team sport. Everything was geared towards what was best for the team. Frank was a member of the Admiral King tennis team that won the final Buckeye Conference championship in 1986.

After graduation, Frank took his game to Eastern Michigan University (EMU), (1986-1990) where he was a four-year letterman. He was co-captain his sophomore and junior year and captain his senior year. After graduating in May 1990, EMU hired him as the head men's varsity tennis coach in the fall of 1990. For the next five years (1990-1995) he was able to develop his coaching skills.

In 1996, he was the assistant and interim head woman's tennis coach at the University of Kansas where his team had a first place finish in the Big 8 Conference and in the following year, he assisted the men's team to a second place finish in the Big 12 Conference.

He was the head coach for women's teams at the University of Akron, 1997-1999 and University of Louisiana at Monroe, 1999-2001. As an assistant coach for the women's team at Ohio State in 2001 his coaching skills continued to show results as the team finished in 3rd place in the Big Ten Conference. Frank received recognition as the 2002 Midwest Assistant Coach of the Year.

Frank returned to Kansas as an assistant from 2004-2006 where his coaching and recruiting talent helped Kansas to an improved 14-11 mark. The team had only won a total of eleven in the two previous years.

In 2007, Frank joined the University of Georgia as the Assistant Coach/Recruiting Coordinator of the women's program. Prior to his arrival at UGA, the women's program had won a total of three SEC titles. Since his arrival they have won three SEC Tournament titles (2007-2009) and two regular season championships. In 2008 Georgia was 22-5, winning the SEC tournament and advanced to the NCAA Round of 16. They were ranked eighth nationally with a record of 22-5. Frank was recognized as the Wilson/Intercollegiate Tennis Association (ITA) South Region, Assistant of the year. The next year the team advanced to the tennis Final Four, with a record of 27-3 and an ITA final ranking of No. 3.

During his tenure with UGA, Frank has consistently been credited with having top notch recruiting classes and the tennis team has compiled an 86-19 record.

Frank was named to the position of Associate Head Coach/Recruiting Coordinator at the University of Georgia in September, 2010.