Skodny, Joe
Joe Skodny – (2011)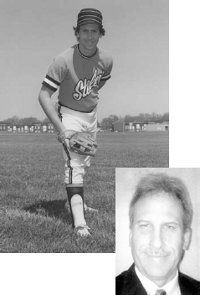 Joe Skodny grew up on the East side of Lorain and his earliest baseball memories are at the Maple Park "Field of Dreams".

One of his fondest memories is of pitching a perfect game while playing for the Lorain Elks Club in the 1970's and winning the city championship in the youth development leagues with an undefeated record.

Joe moved on to play for Lorain High School from 1978-1981. He lettered for two years as a pitcher and first baseman and in his senior year he was selected as a co-captain. He also played intermittently for the Lorain Internationals during the summers of his high school and college careers.

After high school Joe attended a Major League Scouting Bureau tryout camp in Berea and after a very impressive display of his pitching talents he ended up receiving a full four year scholarship to attend Kent State University.

In college he had a very successful career which included being chosen as a member of the 1986 All District NCAA baseball team and to the 1986 First Team All Mid-American Conference. He also broke several records, including, most consecutive wins in a season (9), most wins in a season (9), most career wins (22) breaking a 32 year-old record at Kent State University. His season ERA (1.76) is still ranked 4th all – time after 25 years. Joe ended his outstanding collegiate career with a 22-7 record.

In Joe's senior year of college he was signed by the Kansas City Royals. He pitched as a reliever for three years in the minors and finished with a 2.98 ERA and a 7-4 record. His professional career was unfortunately cut short in 1988 by a chronic arthritic arm injury.

Currently, Joe Skodny is a highly sought after marketing expert and is very active in various community enhancing projects.

Joe and his wife Shelly have three children and reside in Sheffield Village, Ohio. Joe's most enjoyable activities include being a father and husband and helping others.