1957 Lorain High Baseball Team
1957 Lorain High Baseball Team – (2009)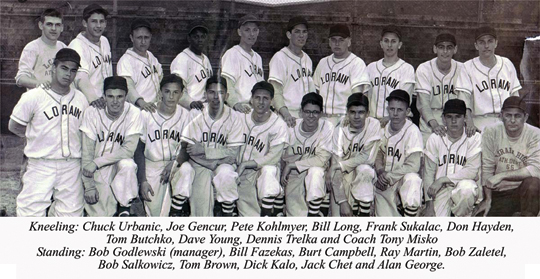 In 1957, a never-say-die band of Lorain High School baseball players didn't quit until they reached the State Class AA finals at Columbus. They eventually finished 8-3 overall, with that total adding up to a "Lucky 11" under Coach Tony Misko.
Although Lorain lost to Reading High (located near Cincinnati), 9-0, in the state finale, it had nothing to be ashamed of that day at The Ohio State University diamond. Claude Osteen was the dazzling southpaw who defeated LHS, limiting three hits and striking out 17 in just six innings. Osteen, of course, went on to win 196 games for six major league clubs between 1959-1975.
Future Lorain Sports Hall of Famer, the late Bill (Fuzz) Fazekas, was the man of the hour for the Steelmen in 1957. Fuzz pitched the Steelmen to their sixth straight seasonal victory with a hard-fought three-hit, eight-strikeout performance over Euclid, 5-3, at League Park in the Regional finals. Fuzz finished that spring with seven wins on the mound.
Fazekas, who later became a $20,000 bonus baby with the Cleveland Indians and played four years in the Tribe farm system before a sore arm sidelined his career, also won the Class AA state opener with a three-hit, 14-strikeout game over Columbus St. Charles. Among Fazekas' minor league teammates who eventually made it to the majors with Cleveland were Sonny Siebert, Walter Bond, Al Luplow and Mike de la Hoz.
Coach Misko, not wanting to risk injuring the arm of star right-hander Fazekas, didn't start "Fuzz" in the state championship game. Joe Gencur and Jack Chet shared mound duties in that title game, with Fazekas playing third base.
"All in all, I can't say enough about those kids (from 1957)," said Misko. "I was a pitcher myself in high school, so I knew what it was to have a sore shoulder and I didn't want that to happen (to Fazekas). We had a good shortstop-second baseball combination and some kids who really knew how to patrol the outfield. When Fazekas didn't pitch, we had him at third base. He was a good one there too.
Outfielder Burt Campbell joined shortstop Dick Kalo and Chet as the only Steelers getting hits off brilliant lefty Osteen. Gencur was later selected to play in the annual East-West All-Star game at Jet Stadium in Columbus. Campbell, a fighter pilot who was shot down over Vietnam and became a prisoner of war there, passed away from cancer in Dayton, Ohio in 2002. Other deceased 1957 team members besides Campbell and Fazekas are Tom Butchko and Jack Chet.