1962 Admiral King Football Team
1962 Admiral King Football Team – (2007)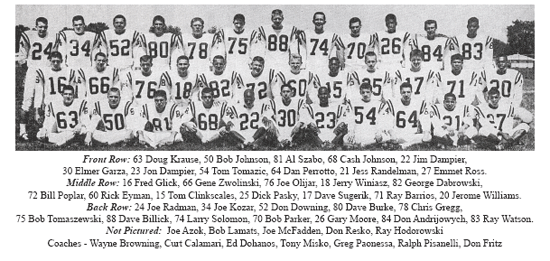 Although the school was only in its second year ofexistence, Admiral King High School made big waveson the Ohio scholastic football scene in 1962.
In its first year in the rugged Buckeye Conference,the Admirals of Coach Tony Misko finished 9-1 overalland were ranked in the top 10 of the state all season. Sucessive victories, including four shutouts came overCanton Central Catholic, 14-0, Mansfield Senior 28-6,city rival Lorain Senior 12-8, in front of 8,000 fans,Toledo Scott 40-0, Findlay 38-0, Elyria 26-0, LakewoodSt. Edward 38-6, Fremont Ross 24-16 and MarionHarding 44-8. In the final game of the season theirvaliant bid for an unbeaten year came tumbling downwhen they played in a rain storm at Sandusky and lostby a score of 38-8. Their offense was stymied with sixfumbles, four of which were recovered by Sandusky.
Nine players were named to the All-BuckeyeConference. First and Second Team Offensive andDefensive squads. Leading the way was two-waytackle Don Downing, who was the only unanimouschoice. Joining him were two-way end Joe McFadden, running back Joe Kozar, end George Dabrowski, lineman Gene Zwolinski, back Bob Lamats, lineman Joe Radman and defensive backs Tom Clinkscales and FredGlick. Joe Kozar was the Buckeye Conference scoring leader with a total of 84 points, as well as winning the Lorain County scoring crown with a total of 136 points.
Team members who went on to successful college careers were Don Downing, captain of the 1966 football team at the Naval Academy; fullback Joe Kozar atMiami, (O), halfback Joe Radman at Colgate; linemen Bob Tomaszewski and Gene Zwolinski at California State (Pa). Dave Billick and Tom Clinkscales went on to playbasketball at Kent State University.
This team was truly a gifted group of people. Five individuals associated with the team were previously inducted into the Lorain Sports Hall of Fame on theirown achievements. Included in that group were Tony Misko, Don Fritz, Ed Dohanos, Don Downing and Bob Tomaszewski.