1984-85 Lorain Catholic Basketball Team
1984-85  Basketball Team, Lorain Catholic High School, Inducted 2012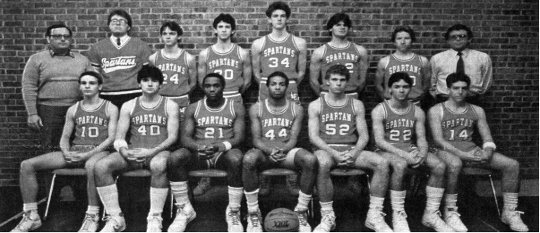 The Spartans continued their tourney success by marching to their fourth straight Elyria District Title with a win over Keystone 68-54 in the title game. After turning back Oregon Stritch in the Regional opener, the Spartans would be one game away from Columbus.The Spartans entered the season after three straight Sweet Sixteen appearances. They started the season winning seven straight before falling to defending Division II State Champions Akron St. Vincent St. Mary, 70-68. LC would go on an eight game winning streak to win its fourth straight Erie Coast Conference Championship. They finished the regular season 17-3, losing the three games by a total of five points, all at the buzzer.
Paul Wilson and Frank Owens put on their most impressive performance in their four years together. The Spartans defeated high-scoring Bellevue, 94-76. Wilson set a Toledo Fieldhouse record with 46 points–18 coming in the fourth quarter. Owens would add 18 points, 15 of them coming in the critical first half.
The red hot Spartans faced off against State rated power Youngstown Rayen, in the semi-finals and were defeated 69-64. Youngstown Rayen went on to win the State Championship.
First-Team All-Ohio Paul Wilson led the Spartans in scoring with 24.5 ppg. Frank Owens averaged 17.5 ppg and holds a County record of playing in 101 varsity games over four years. Tim Spalich's intense style of play defensively, and on the boards, was crucial to LC's success; he averaged 14.1 ppg. Tim Elwell, a scrappy ball-hawking guard and playmaker averaged 8.8 ppg. The only junior starter 6′ 3″ Jim McConnell, was a solid defender and heady contributor, averaging 7 ppg. The Spartan bench was made up of Lou Klinar, Steve Glaser, Roy Haas, Matt Lawhead, Dave Nau, Chris Olejko and Tony Telloni.
The Spartans finished the season with 23 wins and 4 losses while earning numerous county, district and state honors.