1987-88 Admiral King Basketball Team
1987-88 ADMIRAL KING BASKETBALL TEAM – (2008)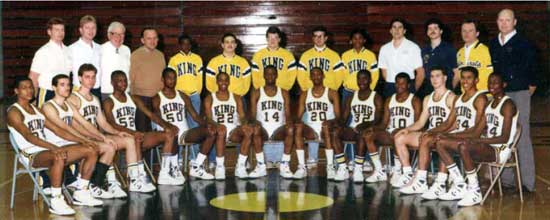 1987-88 Admiral King Basketball Team

Front Row: Harold Walton, Jacinto Vasquez, Scott Lavish, Marcus Martin, Colon Lewis, Jamie Gladden, Dion Whitfield, Eric Cheers, Keith Hogan, Dax McCall, Glen Theiss, Ricky Washington, Leonard Taylor

Back Row: John Rositano, John Grandetti, Pepper Martin, Jim Popiel, Malic Gatewood, Dave Dury, Dave Sosinski, Nick Plavsich, Chris Cofield, Ed Pogorelc, Craig Demyan, Bob Braskich, Mitch Gillam

The 1987-88 Admiral King Basketball team coached by Mitch Gillam has been the only Lorain City Schools Boys Basketball squad to accomplish a perfect 20-0 regular season. It was a quick, explosive team that scored in the 100's five times. On the final night of the regular campaign, King set a county record 132 points in a game. Incredible is the fact the Admirals, with mainly substitutes on the floor, scored a record 48 points in the fourth quarter of that win over North Ridgeville.

The Admirals did survive a few scares during the regular campaign, including two overtime contests. In the first, King prevailed over Elyria 66-61. A few weeks later, the Admirals had to go overtime against Lorain High. Rick Washington attempted his first 3-pointer ever and he made it with 15 seconds left to force overtime where Harold Walton won it with a 14-footer as time expired, 56-54.

In the District play-offs a tough Strongsville team took the Admirals to the limit. Jamie Gladden made a 3-pointer as time expired tying the game and saving the super season. In the overtime, Walton was fouled as he drove to the basket and, with one second left, calmly made both free throws to give King the miraculous 53-51 win. In the finals, King prevailed over a very good Lorain High team, 56-38.

In the semi-finals of the Regionals of the State tournament in Canton, the Admirals eliminated always tough Akron Central-Hower, 55-47. Then in the finals, it was a 53-50 conquest of Canton McKinley, a state power.

In the semi-finals of the final four in Columbus, King made a furious fourth quarter comeback from 15 points down with only 6:35 left that fell only one point short of Columbus Linden-McKinley 69-68.

This 25-1 Admiral King team was so highly regarded that it was ranked 13th in the nation by USA Today, the highest ranking ever to this day for any Lorain County team in any sport.

Walton went on to great success at Kent State while Gladden would become the leading scorer on a Xavier team that made the NCAA Sweet 16. Both were first team all-Ohio and Lorain County Mr. Basketball their respective senior seasons. The other two Admirals who averaged in double figures, Washington and Eric Cheers, also enjoyed fine collegiate careers. Others who helped make it an unforgettable season included Glen Theiss, Scott Lavish, Leonard Taylor, Dion Whitfield, Jacinto Vasquez, Keith Hogan, Colon Lewis, Marcus Martin, Dax McCall and a Hall of Fame coach, Mitch Gillam, named Ohio's Division I Coach of the Year.