1994 Volleyball Team, Lorain Catholic High School
1994 Volleyball Team, Lorain Catholic High School, Inducted 2012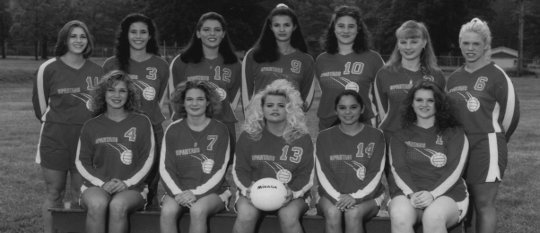 The seniors on the team made it their goal as freshmen to be the best. They put in a lot of hard work and were totally dedicated. They never had to be pushed by Coach Kathy McConnell, who said they always gave 100% in practice and in games. Over their four-year career at LC, they posted a record of 78-11.Team keys were potent offense, excellent defense, consistent serving, intelligent play and being blessed with a trio of six-footers. 6'0" Angie Chet and 6'1" Stephanie Busch provided a wonderful 1-2 punch. 6'1" Alicia Chet also made big plays. 5'9" Meredith Ferlic was an all-around standout in hitting, blocking, passing and serving. Kim Coel was a superb setter. The team had depth as Kristin Betka, Kim Uehlein, Christy Francis, Kellie Dankulic and Becky Whitehead all saw action and made contributions in the state-semifinal win.
Three players received scholarships to play volleyball at Division I colleges; Meredith Ferlic and Stephanie Busch at Tennessee Tech and Kellie Dankulic at University of Akron. The team consisted of more than special athletes. The girls excelled in the classroom resulting in a team gpa of 3.4 with representation on the National Honor Society and as class officers.
With the team members dedication, leadership and hard work on the court and classroom, it clearly validates that the team ranks as the best in Spartan history.