1990 Lorain Catholic High School Baseball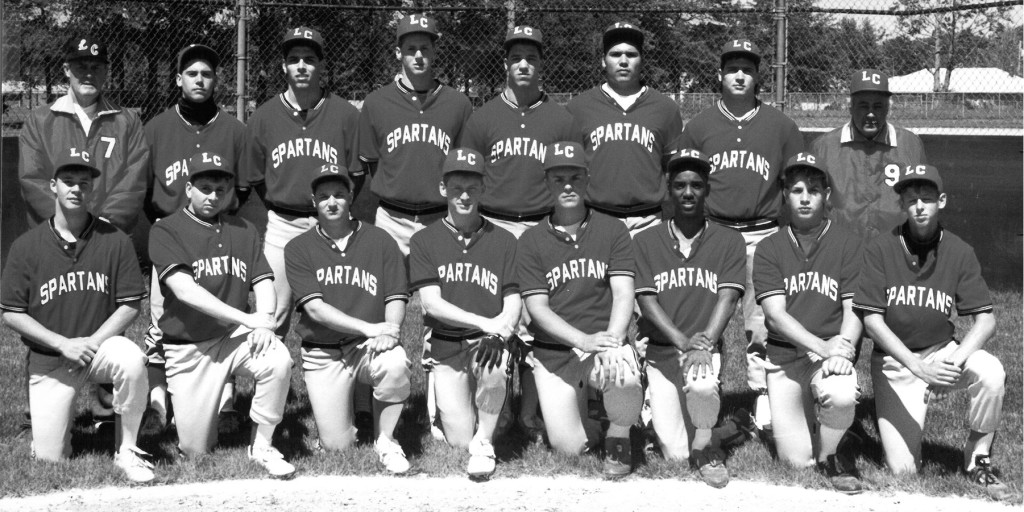 Lorain Catholic High School, 1990 Baseball Team
The 1990 Lorain Catholic Baseball Team had an outstanding group of seniors and underclassmen. The Spartans made a magical run in the post-season, defeating two of the top four ranked teams on their way to the state championship game.
With no conference opponents, Lorain Catholic had to schedule games where they could. Coached by Jim Macholl and assisted by Bob Meyers, the Class A team faced off against opponents such as Amherst, Avon, Avon Lake, Elyria Catholic and Firelands.
Finishing the regular season with an 8-4-1 record, the Spartans easily won over Open Door 14-1 and Richmond Heights 13-1 to capture the sectional championship.
In the districts, the competition proved to be tougher, but the Spartans prevailed over Mogadore 8-7 and Dalton 3-1.
At Dover City Park, senior Graig Mogus was outstanding on the mound and led Lorain Catholic to a 3-0 win over Frontier in the regional semifinals. In the finals, Lorain Catholic recorded a come-from-behind 5-4 win over fourth-ranked Bellaire St. John. Mogus pitched the final three innings to secure the berth to state.
Facing Cincinnati Country Day (No. 2 in the state), Mogus took the mound. Behind the strength of his pitching and some timely hitting, Lorain Catholic earned a berth in the finals with a 5-4 win.
After dispatching two ranked teams, the Spartans had one more obstacle to overcome for a state championship. It came in the form of top-ranked Coldwater, which had three state championships to its name and carried a record of 30-2 into the final.
The Spartans gave it all they had, including a record hitting performance by Todd Bokulich. Driving in five runs, Bokulich tied a state single-game playoff record. But, Coldwater took home the championship with a 13-10 win.
Mogus was outstanding on the mound all season, compiling a 9-0 record. Graig had 101 strikeouts in only 74 innings with an ERA of 1.32. He also excelled at the plate with a .373 batting average. Lorain Catholic celebrated their highest finish in the State Tournament.