Tomaszewski, John
John Tomaszewski, 2012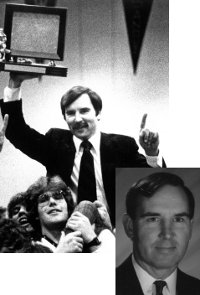 John graduated from Heidelberg College in 1969 with a BA in Education and later earned a Masters degree from Bowling Green State University.After graduating from Admiral King, John entered Heidelberg College and earned two letters as a linebacker and was named co-captain his senior year. He also received one letter in wrestling and three letters as a member of the golf team.
Tomaszewski started a high school coaching career in 1970. He spent the first six years as an assistant coach at three different high schools. In 1976, he joined Tiffin Columbian High School as an assistant coach and served as the defensive coordinator until 1987, when he was named head coach of the Columbian Tornadoes. During his six-year tenure, he led two teams to the state playoffs and three teams to Northern Ohio Conference League championships. In 1987, the Tornadoes were undefeated in the regular season and John was named Northwest District Coach of the Year and UPI Division II Coach of the Year.
Tomaszewski was also head wrestling coach from 1976 thru 2000. During his career, he led Columbian to two undefeated seasons and two Northern Ohio Conference League championships. His teams produced numerous individuals who were Sectional and District champions as well as seven State placers. He was the originator and director of the "Wendy's Invitational" wrestling tournament for eighteen years.
John was inducted into the Tiffin Columbian Hall of Fame in 1993 and retired in 2011 after forty-two years in public and private education. As a coach and educator, he guided many student athletes to university scholarships and launched them on their own coaching careers.
John and Jane, his wife of thirty-nine years, currently reside in Tiffin. They have two sons, Alexis and Maxim.