Walden, Mark
Mark Walden – (2011)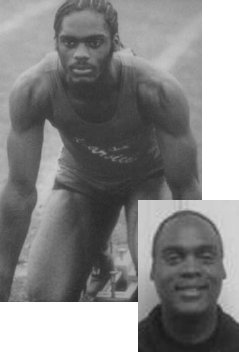 The remarkable sports achievements of Mark Walden began at the Junior High School level where he participated in the 800 yard relay and the high-jump.

His amazing record-breaking career at Clearview High school, clearly, establishes him as one of the greatest athletes in the school's history. During the 1977 State Finals Track competition he ran on the mile-relay team that placed third.

In the following two years the talent-laden Clippers won successive State Track Championships. Mark was a major contributor on those teams in the following events: In 1978, he placed second in the

220 yard dash, ran on the 880 yard relay team which placed first and established a state record. He anchored the mile relay, receiving the baton with seven runners ahead of him. With a powerful burst of

speed, he overtook six of them, leading his team to a second-place finish.

During the 1979 competition, Mark Walden exceeded his previous year's performance by placing first in the 220 yard dash, first place in the 440 yard dash; and, led the mile relay team to a first place finish.

Inspired by legendary coach, Tom Hoch, Mark decided to try football during his senior year. He was an integral part of a great team that lost to Newark Catholic in the Class A State Tournament Championship Game. As a tailback on offense and defensive back, he had excelled beyond anyone's expectations for a first-year player. Mark gained 1253 yards on 166 carries for a 7.5 season average; scored 17 touchdowns as he ran for several long plays of 95,88,84,78, and 76 yards. During the playoff game, he raced for an 86-yard touchdown, which, at the time, was the longest in Ohio football playoff history. For the season, Mark earned honors as MVP and shared the Most-Valuable-Back award with Kevin Naro. He was placed on the First Team All County, and AP All-District Team, and; received the Offensive Back of the Year Award on the All-District Team. He was honored by being named to the All-Ohio Second Team Running Back. In 2011 he was inducted into the Lorain County Track Hall of Fame.

Mark and his wife Deborah and seven children reside in Lorain.

He continued to support his alma mater, coaching girls and boys basketball, football and track from 1987 to 2001 and recently in 2011 returned to coach varsity track.

He is deeply involved with his church, serving as a Deacon.