Zaletel, Robert
Robert Zaletel – (2008)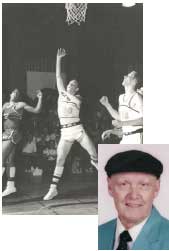 Sometimes, one "gets ahead of himself." In Bob Zaletel's case, he graduated from Lorain High School at the tender age of sixteen and was playing Division 1 college basketball by the time he was seventeen. Having started school early and then skipping a grade, he was always competing against much older players during his multi-sport career.

During a three-year career on the baseball team as a first baseman, Bob was an integral part of the success of Coach Tony Misko's Lorain High teams. His timely hitting helped them win two Buckeye Conference championships and they reached the 1957 state finals in Columbus prior to losing the championship game.

While he enjoyed baseball, Bob really excelled on the basketball court. Bob broke into the starting lineup with the Steelmen at mid-season of his junior year and immediately had a major impact, averaging 15.8 points per game for the remainder of the season. A southpaw, Bob was the best shooter on the team his senior year and led the team and conference in scoring with a total of 337 points, averaging 16.9 points per game. During one stretch of the season he made an amazing 31 consecutive foul shots and sank 47 out of 54 for the entire season (an 87 percent average). The season earned him a trip to the Cleveland Arena for the Cleveland Press All-Star foul shooting contest.

At the end of Bob's senior season the laurels rolled in. These included: 1st Team all Buckeye Conference, honorable mention for the Greater Cleveland All-Scholastic team, 1st Team selection for the Elyria Sectional basketball tournament, and All District 1st Team by the writers at the Baldwin Wallace District tournament. Bob was honored as Player of the Week by KYW Radio for the 10th week of the season. He was placed on both the Lorain Journal and Toledo Blade All-Star teams. The Lorain Booster Club gave him the George Daniel Recognition Certificate for his outstanding athletic ability and his high scholastic standards.

After graduating from high school Bob proceeded to Kent State on an academic scholarship. He then tried out for and made the freshman basketball team as a walk-on. He then enjoyed a three year stint on the varsity team and earned a two year athletic scholarship during that time. In college he was switched to the guard position and, as the smallest player on the team at 6'-1″, he became their defensive specialist holding many opposing stars well below their normal point outputs. His biggest assets were his "sure hands and quick reactions". Kent State Coach Bob Doll praised his "hustle and outstanding defensive play." Not only did this scrappy Golden Flash guard excel on the court, but he also carried a 3.34 accumulative academic average over four years in his scholastic major.

As the years passed Bob took up a second career – shuffleboard. As usual, he also excelled in this endeavor. Feathers in his cap include four National Championships and being a member of a World Championship team in 1993. In 1999, he and his partner went undefeated in a National Championship while competing against 192 other teams. In 2007, he became the first Arizona player to be elected to the National Shuffleboard Hall of Fame. Quite a career by a proud Lorainite.

Bob is currently retired from teaching elementary education after a 30 year career. He and his wife Mary split their time between Las Vegas, Nevada and Mesa, Arizona.