Church, Donald
Donald Church, 2014
Donald Church is known as one of Lorain High School's all-time great running backs. His gridiron talent also built a record-setting football career at Ashland University.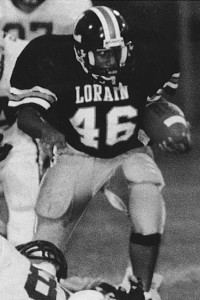 Graduating from Lorain High in 1995, Church rushed for a total of 2, 489 yards on 406 carries, averaging 6.1 yards per carry and also scoring 32 touchdowns in his high school career.
Starting at tailback as a junior and senior, he was named to the First Team Erie Shore Conference and First Team All-Lorain County both years.
As a senior, he also was named First Team Northeast District Division I, Plain Dealer Division I All-Star First Team and Associated Press All-Ohio First Team. In addition, Church was Team Captain, Erie Shore Conference MVP and he was chosen for the Ohio Coaches North-South All-Star Team.
Church received a scholarship to Ashland University where he earned four varsity letters. He was a three-year football starter and was the team's featured running back.
In college, his football talent earned him Freshman Player of the Year. As a sophomore he was 2nd Team All- Midwest Intercollegiate Football Conference. In his stellar senior year, Church was Ashland University Offensive Player of the Year, All-Conference 1st Team and conference Offensive Back of the Year, rushing for 1,222 years and 11 touchdowns.
Nicknamed "The High Roller," Church set Ashland records with a career total of 35 touchdowns and 3,039 yards rushing, ranking him 5th in rushing in school history. He ranked second for most yards in a game with 264 against Findlay.
Church is employed as a Senior Process Coach for Ford Motor Company. He and his wife, Monica, and family reside in Southfield, Michigan.