2015 Inductees
Lorain Sports Hall of Fame adds Class of 2015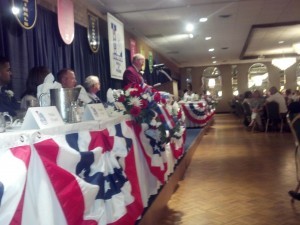 The following seven individuals and two teams took their place in the showcase of Lorain's top athletic talent, with their induction into the Lorain Sports Hall of Fame in ceremonies on May 7, 2015, at DeLuca's Place in the Park. Plaques honoring each of the new inductees and teams will be displayed in the LSHOF Museum in the lobby of the St. Joseph Community Center in Lorain. The museum, free and public, is open from 10 a.m. to 1 p.m. on Mondays, Tuesdays and Thursdays, and evenings by appointment for groups. To learn more about the 2015 inductees' achievements, just click on each of their names below. To see a video of the ceremonies, click here.
Southview High School 1993 Wrestling Team
Bonk's Cafe 1952 Baseball Team
Here's a gallery of photos from the banquet:
Updated May 22, 2015
_____
Uland Award goes to Eddie Williamson of Lorain High School
The 2015 J. Ed Uland Award for outstanding scholar athletes in Lorain was presented to Eddie Williamson of Lorain High School.
_____
Leadership and Service Award presented to Bambi Dillon