Bastock, Andy
Andy Bastock – (2009)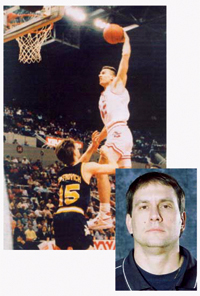 Andy Bastock started his basketball career as a freshman starter for the Southview High School Varsity. Andy scored 419 points over two years and earned two Varsity Letters in basketball at Southview before transferring to Lorain Catholic High School. While at Lorain Catholic, Andy established himself as a dominate player who would leave as a leader in many statistics at a school with a rich basketball tradition and history. Even though he only played two years at Lorain Catholic, Andy left as the third All-Time Scorer with 1196 points. His 27.2 per game average is tops in school history by more than 6 points over the second best average in school history.

After his junior and senior seasons at Lorain Catholic High School, Andy was voted first Team All-Lorain County and first Team All-Conference. After his senior season, he was selected to the first Team All-Northeast District of Ohio Division III All-Ohio third team.

Andy played in the County All-Star Game and set a scoring record that still stands today. He scored 37 points, hitting 18 of 27 shots for 66.6%. His combined totals place him fifth in Lorain County Career Scoring Records with 1,615 points, one place ahead of former Lorain Catholic Star and Lorain Sports Hall of Famer Paul Wilson.

Andy used basketball to realize his dream of being a Division I Player and become a teacher and coach of basketball. Andy accepted a basketball scholarship from Bradley University, which was known for having a fine basketball tradition in Division I. He became part of a select group of athletes from Lorain to play Division I athletics. And Andy majored in mathematics and became a member of the Missouri Valley Athletic Conference All-Academic Team.

During his career at Bradley University, Andy started the opening game of his freshman season. He was a valuable player off the bench most of the year. Andy played in all 31 games starting in 23 as a sophmore. He led the team and was first in field goal percentage (60%) in the Missouri Valley Athletic Conference. He led his team in blocked shots with 26 that year. Andy received votes for Missouri Valley Conference Defensive Player of the Year after his sophmore year. Injuries limited Andy his last two years, although he finished his college career with 513 points.

He achieved his first goal and attained a degree in mathematics. Today, Andy is the Head Basketball Coach at Southview High School and just finished a successful season. Andy is the son of Lorain Sports Hall of Famer, Del Bastock.