Falencki, Paul
Paul Falencki – (2011)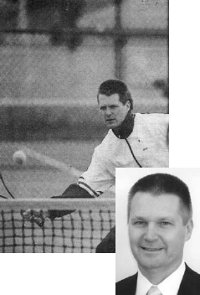 Paul Falencki graduated from Admiral King High School in 1980 where he starred in golf and tennis earning three varsity letters in each sport. His playing days continued for the Ashland College Eagles where he excelled in tennis and earned four varsity letters.

Upon graduation from Ashland College, he returned to his hometown and began a successful teaching and coaching career at Admiral King in 1989. Drawing on his experience and success of his competitive playing days Paul was able to effectively transfer those experiences to his student athletes.

Very few of his high school players had any previous instruction in the proper techniques and strategies of the game. There were no formal tennis summer instructional leagues or programs where the youths could learn or gain experience. Paul was determined to change that and started his own Summer Tennis Program with the hope of creating an interest in the sport.

His determination and passion to give back to his community proved to be very successful. The programs put in place by Paul were a major factor in the success the Admirals experienced under his leadership. In his twenty-five seasons as head coach Paul's teams amassed 309 match wins compared to only 125 losses. The boy's teams accounted for 154 of those wins and 70 losses and the girl's teams chalked up 155 wins and 55 losses. During his coaching career at Admiral King, Paul's teams won four Erie Shores Conference championships and he was named conference coach of the year twice. In those twenty-five seasons, Paul guided the Admirals to twenty-two winning seasons.

He qualified fourteen players to District play with two making it to the State Finals. The 1995 girls team was undefeated in the regular season and ranked 11th in the State by the Associated Press.

In February 2005, Paul was awarded recognition by the Ohio Tennis Coaches Association for his career 300th win. Paul instilled the same work ethic in his players, as he demanded of himself. He required his players to prioritize by taking care of home responsibilities, academic achievement and tennis improvement in that order. This blueprint along with parental involvement proved to be the way

to success.

Paul and his wife Trena have three children and reside in Lorain. Paul retired from coaching in 2004, but continues to teach at Lorain High School.