Martin Jr., Ray
Ray Martin Jr. – (2009)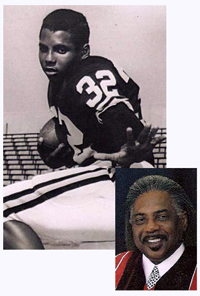 In January 1957, Ray Martin Jr. entered Lorain High School as a mid year sophomore and was immediately placed on the "Steelers" varsity basketball team coached by the legendary Al McConihe. It was the beginning of a stellar high school career in which he earned 10 varsity letters in football, basketball and baseball, while developing his leadership skills.

As a first semester sophomore Ray was one of the mainstays on the Steelers baseball team as a third baseman. The '57 Lorain High baseball team played in the Class AA state finals, losing to Cincinnati Reading. He was a three year letterman and was co-captain of the '59 Steelers.

In football, he was a three year letterman and as a 5'10", 165-pound two-way performer, Ray was a running halfback on offense and safety on defense. Coach Art Lave said the 1959 Lorain High Steelers has "two boys who must considered among the best in the state" in Ray Martin and Harold Jones. In addition to being co-captain Ray was named Team MVP. He also received First Team All-Buckeye Conference and AP/UPI All-Ohio First Team honors. He was also a recipient of the "George Daniel" award.

The '59 Steelers were co-champions of the Buckeye Conference with the Elyria Pioneers and the Marion Harding Presidents. In addition to a conference co-championship Ray led the Steelers to an upset win over the AP's No. 2 team in the state, Warren Harding, by scoring two first half touchdowns as 7,000 cheering fans witnessed the upset at George Daniel Field.

Ray was a major contributor to the '58-'59 Lorain High basketball team. His teammates called him "Slater" because of his ability to pluck a ball from an opponent and turn it into a fast break. As co-captain of the '59-'60 basketball team Ray played guard and averaged 20 points per game through the first nine games of the season. His high school career ended when he graduated in January 1960.

Upon graduation he attended Miami of Ohio on a four year full ride scholarship to play football. He played on the Miami JV basketball team and the 1960 football team. However, in the summer of 1961 Ray turned in the red and white colors of Miami and joined the U.S. Army.

After a 21-year career in the U.S. Army, Staff Sergeant First Class Martin retired in 1982 and began a new career as Pastor Raymond Martin Jr. Pastor Martin has been serving his community in Marina, California for 22 years, with 15 years of service to the Soledad State Prison system. He has been married to his lovely wife, Judy, for the past 27 years. They have six children, nine grandchildren and one great grandchild.