Ciarrone, Richard
Richard Ciarrone – (2012)
Richard Ciarrone was an outstanding basketball player at Lorain Catholic High School and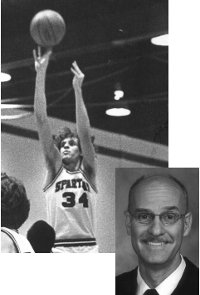 Rich was named Lorain Catholic MVP as just a junior in 1976-77. During that campaign, he led the Spartans to a 14-6 record and a Class AA Sectional Championship. He averaged 16 points and 13 rebounds a game, and was named to the First Team All-North Central Conference.As a senior in 1977-78, Rich set school records at the time: 22.3 points per game, 15 rebounds per game plus he blocked four shots a game. Lorain Catholic was a member of two different leagues that season; the North Central and the Erie Coast, and Rich was selected First-Team in both. He was also First-Team All-Lorain County, AA Player of the Year in the Northeast District and First-Team All-Ohio. Rich was the team MVP for a second straight year. He was selected to play with the Northeast Ohio Stars in a prestigious all-star game in Sharon, Pennsylvania.Rich was a dominating player. He graduated fourth on the all-time scoring list at Lorain Catholic. His personal game highs were 39 points, 23 rebounds and nine blocked shots for the Spartans.

Ciarrone's success continued at the collegiate level. After a year at Ashland College, as it was known then, Rich transferred to Baldwin-Wallace College where he won two varsity letters. He was tri-captain for the Yellow Jackets in his senior year of 1981-82; and, was accorded the Outstanding Rebounder Award after leading the team with 7.2 rebounds per contest. His scoring average that year was 9.7 points per game.

Ciarrone has been a member of the City of Parma Fire Department for twenty-two years and currently is a Fire Inspector and Investigator for the department. Rich and his high school sweetheart Linda, have been married for twenty-nine years and are parents of three daughters, and reside in Parma, Ohio.