Svete, Lee J.
Lee J. Svete – (2010)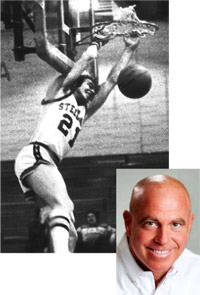 During the period of 1975-1978, Lee Svete attended Lorain High School and quickly became a key player for the varsity basketball team and earned two varsity letters.

Svete had a breakout year as a junior with a regular season 12.5 points per game scoring average, and followed with an outstanding performance in the tournaments. Although the Steelmen had a losing regular season record, they played the spoiler role in the post-season play, winning their first Sectional Tournament title since 1974. Svete led the team with a 22 point per game average and was named to the First Team in both the District and Sectional Tournaments.

Lee continued his outstanding play as a Senior, leading the team and the Buckeye Conference in scoring and rebounding. He received numerous honors, including All-Lorain County First Team. Outstanding Player in Lorain County, Buckeye Conference Player of the Year, was named to the All-Ohio Third Team and played in the North/South Cage Classic All-Star Game in Canton, Ohio.

Following his graduation from LHS, Lee attended the College of Wooster to continue his basketball career under Coach Al VanWie. As a freshman, he led the JV team in scoring and was quickly promoted to the varsity squad.

He started the sophomore season as the sixth man, but was then moved to the starting lineup to take advantage of his scoring ability as he averaged 11 points and five rebounds per game.

Lee was elected team captain, but his junior year was plagued with a foot injury that reduced his game action, but he still averaged 12 points per game and was named the team Most Valuable Defensive Player of the Year.

For his final season, he was co-captain and was the only senior on the team. Despite his lingering foot injury, he contributed 10 points per game and provided leadership in guiding the young Scot team.

Lee averaged in double figures for three consecutive years, finishing his career with a total of 924 points and earned four varsity letters.

Lee continued his basketball activity as an assistance coach at Adrian College and later spent 12 years as a basketball official and as a coach for Boys and Girls AAU teams.

After receiving his Masters degree from Bowling Green State University in 1985, Svete moved to the State of New York to pursue a career in higher education in the specialty of Career Development. Over a period of 13 years, he held positions at three different colleges, and then returned to the Midwest in 1999 to assume the position as Director of the Career Center at the University of Notre Dame. In 2009, Lee received the Prestigious Presidential Service Award from Notre Dame.

Lee and his wife Jill, have a daughter in college and a son in high school and reside

in Granger, Indiana.