1981-82 Admiral King basketball team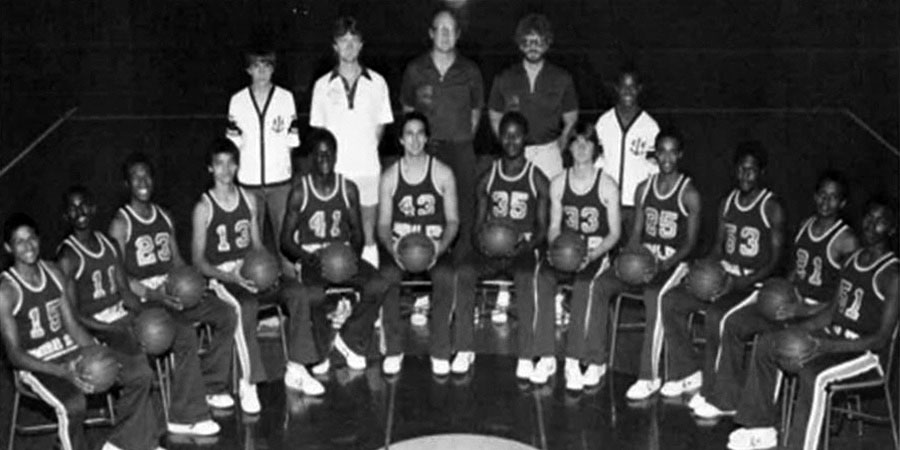 Sitting – Mike Walton, Roger Smith, Demetrius Lovett, Ken Simmons, Steve Davis, Bill Heider, Michael Jackson, Steve Nelson, Ed Suggs, Aaron Goshen, Darian Northcutt, Myron Wicks
Standing – Manager Dennis Fabian, Assistant Coach John Grandetti, Head Coach Mitch Gillam, Assistant Coach Al Haschak, Manager Donnell "Pee Wee" Noble
Not Pictured – Bob Calamari
1981-82 Admiral King basketball team
Admiral King was the winningest Class AAA boys' basketball team in the state of Ohio for the decade of the 1980's. The 1981-82 edition set the tone by accomplishing a school record, at the time, of 24 wins to go with only 2 losses. Their only regular season setback came in Game 6 against Lorain High, 60-56. The Admirals went on to win a school record 19 games in a row before dropping a 3-point verdict in the Regional Finals at Kent State to Toledo Scott, 47-44.
King was crowned champion of the Buckeye Conference. The Admirals were ranked No. 3 in Ohio in the final AP state poll of the season and had the distinction of being the No. 1 team in northeastern Ohio in the final Top 50 of The Cleveland Press, which was an afternoon daily newspaper. Mitch Gillam was named Ohio's "Coach of the Year" by UPI and top coach in the Buckeye Conference. "Player of the Year" in the BC was Michael Walton, older brother of Kim, who a couple of years later would be voted Ohio's Girls Basketball "Player of the Year" and Harold, who would earn numerous honors after being a key player on King's state qualifying teams of 1986 and 1988.
Leading scorer on this Hall of Fame team was junior Roger Smith, an inductee into the Lorain Sports Hall of Fame with the class of 2019. Roger, who would go on to play both Division I basketball and football at Ohio University, averaged 16.3 points per game and established new school records of 159 assists in a season, helped by a game record of 13 against Brunswick, plus Smith was the leader in steals with 98. Another defensive standout was Myron Wicks, who led with 10 charges taken. Other valuable Admirals included Bill Heider and Ed Suggs who were selected for the Coaches' Award,
Michael Jackson for the Craig Demyan Memorial Award, and sophomore Steve Davis deemed most improved. And, it would not have been such a great year without Aaron Goshen, Bob Calamari, Steve Nelson, Ken Simmons, Demetrius Lovett and Darien Northcutt.