1986-87 Lorain High Men's Basketball Team
1986-87 Lorain High Men's Basketball Team – (2011)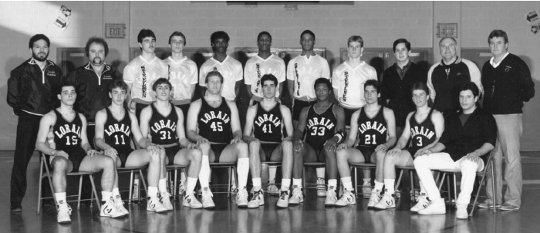 The 1986-87 Lorain High Basketball Team began their season with this challenge from their Head Coach Dale Reichert and Assistant Coach Carl Hartman; "Won the first one, win the last one." This referred to winning the championship of the prestigious Buckeye Conference, which was in the final year of its storied existence. Head Coach Dale Reichert and his long-time assistant coach, Carl Hartman, were teammates on the first Buckeye Conference Champions in 1956.
They recognized the character of the young men who had played together since the Ninth Grade and that they were ready to play for them in the upcoming season. They felt that this group was capable of placing matching Lorain high "bookends" on the Buckeye Conference's distinguished list of basketball champions.
The Steelmen responded to the challenge with eight straight wins to open the season before losing to cross-town rival Southview in overtime, 70-69. They regrouped and won the next six games before losing to the Admirals by three points. This was their last loss in the regular season in which they chalked up an 18-2 record and became the undisputed Buckeye Conference Champions. They won two more games beating Amherst and Elyria in Sectional tournament play before losing to Admiral King 48-45 in the finals.
The defining moment of the season was the final regular season game at Elyria. The Lorain-Elyria rivalry, which until 1995 was the one of the oldest between any two high schools in the state of Ohio, and was never any more fierce. The 17-2 Pioneers needed a win to gain a share of the championship with Lorain, which had clinched at least a tie for the title in a win at Marion the previous weekend. It was the Cleveland area television Game of the Week, and the sold-out Elyria gym had a Super Bowl atmosphere to it. In a game subsequently described by the announcers as one of the greatest high school games that they had ever witnessed, sophomore Tony Robinson, in his first game on the varsity, connected on both ends of a one-and-one with three seconds left in the contest, to clinch the victory, and the outright conference championship for the Steelmen.
The team achieved a #9 final ranking in the Associated Press AAA State Basketball Poll. Their 20-3 record marked only the third time in school history that the 20 win mark had been reached.
The team did indeed respond to the coach's challenge and earned a well deserved place in Lorain's sports history.