1990-91 Lorain High School Girls Basketball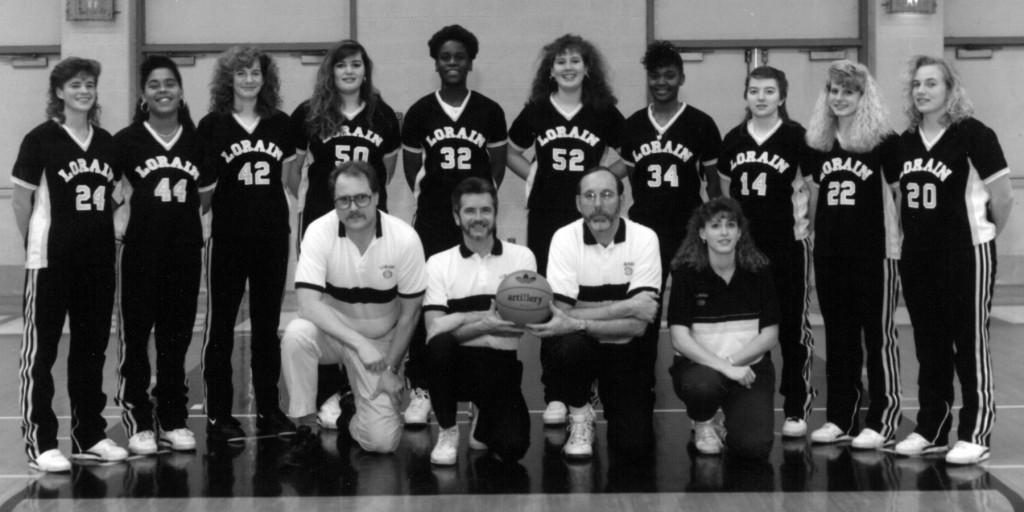 Kneeling: Head Coach Jay Ferguson,  Asst. Coach Randy Lathwell,  Asst. Coach Thurm Riddle, Asst. Coach Jill (Ferguson) Griebe Standing: Kyle Lathwell, Jessica Williams, Heather Zehel, Stephanie Minnich, Monica Bennett, Erin Boutton, Shonda Cheers, Jan Hembree, Melanie Nisenboum, Amy Rufo.
Lorain High 1990-91 Girls Basketball, Inducted 2013
Everyone around the Lorain High School girls basketball program expected 1990-91 to be a banner year. The returning starters included All-Ohio Third Team point guard Kyle Lathwell, Monica Bennett and Erin Boutton from the previous season's 18-5 team. The team was bolstered by the return of Jessica Williams and Elyria transfer Shonda Cheers. Thoughts of winning the highly competitive Erie Shoe Conference was a team goal, after falling just short the previous year.
The 1990-01 squad was the first LHS girls basketball team to go undefeated during the regular season, with a record of 20-0, and had a final ranking of fifth in the state. The team trailed only once in the second half of a game during the regular season. They outscored their opponents by an average of 27 points per game. They won the Erie Shore Conference and the Division I Sectional Tournament with wins over Amherst and North Olmsted. Those two wins gave the team a record of 22-0 before eventually losing their first and only game of the season to Westlake in the Districts by 1 point. Coach Jay Ferguson received Erie Shore Conference and All-District Coach of the Year honors.
A senior-laden and experienced squad was the key to the team's success. Several team members received recognition at the Erie Shore Conference and the All-County levels. In addition, Lathwell and Bennett were named to the All-Ohio squads, First and Third Team, respectively.
The team indeed turned in an outstanding season.