Abrahamowicz, Adrian

Adrian Abrahamowicz
A longtime Lorain County baseball legend, Adrian "Coach A" Abrahamowicz served as a coach at several local high schools and at Oberlin College, taking the Yeomen to unprecedented heights. Perhaps more importantly, he was responsible for helping innumerable Lorain County athletes play baseball at the next level.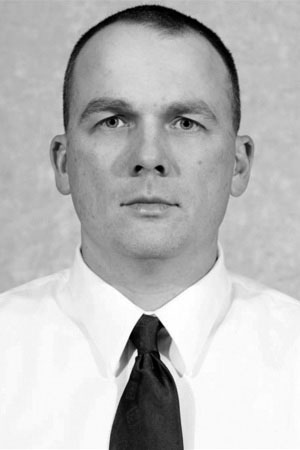 Adrian graduated from Lorain Catholic High School in 1989 and attended Tiffin University where he played baseball for one season before joining the Marine Corps. When an injury forced him to return to school, he worked his way through college and graduated from Tiffin University in 2004 with a bachelor's degree in Criminal Justice Administration. While his injury derailed his tenure in the Marines, it opened an opportunity for him to pursue
his passion for baseball and coaching.
Immediately after graduation from Tiffin, Adrian started his coaching career at Lorain Catholic High School. He also coached a collegiate summer team that won back-to-back Erie Shore Collegiate League Championships in 2004 and 2005. He also contributed to the programs at Elyria Catholic, Avon Lake and Columbia High Schools.
After taking the helm at Oberlin College for the 2011 season, Abrahamowicz guided the Yeomen into the NCAC Tournament three times (2013, 2015, 2017), leading the team to school-best totals in overall wins (23) and conference wins (12) in 2017 during his 18-year career at the college. In 2015, he steered the Yeomen to three victories at the NCAA Regionals, becoming the first and only coach in program history to win an NCAA Tournament game. The 2013 NCAC Coach of the Year, Abrahamowicz had six seasons of 17 or more wins and three years with 20 or more victories.
Adrian started the Lake Erie Warhawks summer program in 2014. Later, he merged his powerhouse organizations with T3 in 2021 and served as the Director of 16-18U Teams and College Placement Coordinator. During his time with the Warhawks, he personally guided more than 200 players into
college baseball careers. The program, overall, placed more than 275 players into college under Abrahamowicz's guidance.
Adrian's influence on local athletes and baseball continues, even after his passing in 2022. Certainly, his legacy includes all the lives he touched as a coach and all the athletes he helped to find a college baseball career. His impact continues through Abrahamowicz Family Baseball. The 501(c)(3) not for profit, celebrates the life of Coach A by providing scholarships to local baseball players, promoting baseball and improving local stadiums, helping veterans and funding cancer research. And it is no accident that the word family is included in the foundation name: His wife Teresa and his children Taylor and Andrew share in his legacy.