Brannen, Theresa (Feldkamp)
Theresa (Feldkamp) Brannen, 2019
Theresa (Feldkamp) Brannen resided in Lorain, Ohio. She pursued her academic and athletic career in the Amherst School District. During her high school athletic competition as a "distance runner", Theresa compiled an extraordinary number of honors and victories, including the following: Division I State Champion in the 800m event for two consecutive years (2000-2001), which had never previously been achieved by a female competitor in Lorain County.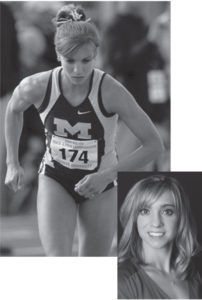 During her freshman year at the 1998 State Championship Track Meet, Theresa placed 4th in the 800m; and, placed 3rd the following year; thus, acquiring All-Ohio awards and honors for four consecutive years of participation. She placed 1st in the District and Regional meets in the four years that she competed. Theresa presently holds the school record in the 800m competition; and, was a major contributor for several record-setting relay teams that won SWC championships for three consecutive years. Throughout her career, Theresa contributed to twelve SWC championships; and, was named a Lorain County All-Star three times.
Competing nationally in the 800m event, she placed 2nd at the Indoor National Championships; and, awarded 4th place in the Outdoor National Championships. Consequently, Theresa earned All-American status for those achievements.
Excelling in the classroom was also one of her talents as she was a National Honor Society scholar for her junior and senior years; and, as a four-year honor roll student was honored by being named a National Scholar Student Athlete in the year 2001.
The next destination was The University of Michigan, arriving with a scholarship. Competing in cross-country and indoor and outdoor track, Theresa accomplished the following: 800m Big-Ten Indoor Champion, competed on the Big-Ten Champion Indoor Distance Medley Relay Team, and was a runner on the NCAA Championship Distance Medley Relay Team (2005).
Continuing to excel in the classroom, she earned All-American and Big-Ten academic honors; and, received the University of Michigan Academic Athletic Achievement Award in three consecutive years.
Theresa graduated with a Bachelor of Arts Degree in Sports Management and Communication in 2006. Presently, she is employed by Keller-Williams, Cleveland, Ohio as a sales consultant and real estate investor. Long-distance training and competing requires intense and exhausting effort. It, also, requires dedication to sustain mental and physical stamina. Theresa Feldkamp Brannen was willing to "pay the price" for success.
Theresa is married to Nathan Brannen, a former Olympic distance runner. They have two children, Gianna and Grayson.