Hernandez, Jesse
Jesse Hernandez, 2019
Jesse Hernandez, a 1992 graduate of Southview High School, started bowling in 1988 at the age of 14. At this time, Jesse also started working and bowling at Croation Lanes and later at Rebman Recreation. This experience gave Jesse time to practice and refine his bowling skills in preparation for bowling as a junior and as an adult. He bowled 5 years as a junior and captured two Junior Bowling Association Tournament trophies. In 1994, as an adult he started bowling in two leagues. He bowled in both the Stella's Pizza Classic League and the Rebman Doubles Classic Leagues. Jesse won his first league championship with Kel Johnson in the Rebman Doubles League. In December of 1994, he won his first singles title at the Slovak Singles Tournament at the age of 20. He was the youngest bowler to ever win this tournament.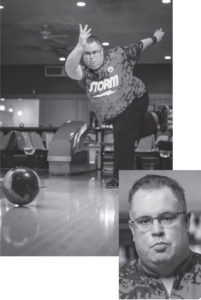 Jesse's other bowling accomplishments:
215 lifetime average
227 season high average, 2009-2010 season
833 lifetime high series on Jan. 8, 2001
Two 800 series
United States Bowling Congress/American Bowling Congress Awards:
11 – 300 games
1 – 298 game
1 – Triplicate
Lorain Bowling Association City Tournament Championships:
6 – Team actual score events and 1 handicap score event.
His 2015-2016 team defeated 79 participating teams, a record for team participation.
3 – Doubles actual score events: A 2003-2004 LBA City Tournament Record Score of 1488 bowled with Rick Shawver.
2 – Doubles Handicap score events
1 – All Events category – a high total score for Singles, Double and Team events
1 – Sheriff's Trophy – most pins over average, 305 pins in 2003-2004 LBA City tournament
2 – Singles events high score – 1999-2000, and 2001-2002
1 – 700 Tournament event 2001-2002 season. Open to bowlers who have a sanctioned 700 series.
1 – 800 Tournament event 2016-2017 season. Open to bowlers who have a sanctioned 800 series.
1 – Masters Tournament event 2016. Open to the 32 highest average LBA bowlers in head-to-head competition.
In 1994, Jesse joined The Lorain Bowling Association Board as an advisor. He moved up to Executive Director, and then served 4 years as an LBA Vice-President. During his time as Vice-President he served as the BVL chairman collecting donated money from bowlers for disabled veterans in the Sandusky Veterans Home and the Lorain Valor Home. He was also Chairman of the Lorain County Roll-off Tournament and the LBA Hall of Fame Banquet. In 2004-2005, Jesse became President of the LBA. Jesse was inducted into the LBA Hall of Fame for Superior Performance on May 5, 2013. His outstanding bowling achievements have added excellence to the bowling history of The Lorain Bowling Association. His long period of leadership in the LBA stands as a testimony to his commitment and unselfish desire to serve Lorain bowlers.