Lathwell, Kyle
Kyle Lathwell, 2014
Kyle Lathwell was an outstanding female athlete at Lorain High School playing tennis and softball, but
basketball was her sport as a player and team leader. She displayed exceptional talent as a sophomore and junior with the potential to be recognized as a premier player in Ohio.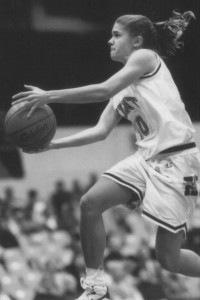 She was a four-year starter and earned four varsity letters in basketball.
As a senior, the 1991 team won the Erie Shore Conference Championship with a regular season record
of 20-0 and was ranked 5th in the State of Ohio. She averaged 22.6 points, 7 assists, and 6 steals per game and finished her career as the Lorain County All-Time Female Scorer (at that time) with 1,636 points.
Kyle earned numerous awards including:
All-Erie Shore Conference First Team – 3 years
All-District First Team – 3 years
All-Lorain County First Team – 3 years
All-Northeast Ohio First Team – 2 years
All-Ohio Team – Honorable Mention (Sophomore)
All-Ohio – Third Team (Junior)
Additional Senior year awards included:
All-Ohio First Team – AP and UPI
Lorain County Player of the Year
Lorain County Miss Basketball
Erie Shore Conference Player of the Year
Erie Shore Conference MVP
Selected to the Ohio North-South All-Star Game Lathwell received a full athletic scholarship to play basketball at Division I Kent State University where she continued her outstanding play as a three-year starter. As a freshman she played in 24 games, as a sophomore she averaged 6.2 points per game as a guard and was ranked 15th nationwide in 3-point field goal percentage. Kyle averaged 8.2 points per game as a junior, however she broke her wrist in her senior year which resulted in limited playing time.
Kyle graduated Magna Cum Laude in 1995 from Kent State University and with honors from The Toledo
University College of Law in 1999.
She currently resides in the Columbus, Ohio area.