Taylor, Gerald
Gerald Taylor – (2009)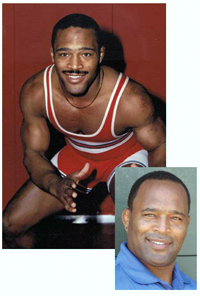 Gerald Dewayne Taylor got into wrestling at the suggestion of Whittier's junior high guidance counselor Ron Majer (who, with Rick Hans, was one of the coaches of Whittier's wrestling program). Before his successful athletic career could get underway, there was an unusual problem with which Gerald had to contend. Back then, all wrestlers had to be clean shaven, but at age 13 Gerald had a thick and fully developed mustache that made him look like a short little man. His mother initially refused to let him shave it off, but after the intervention of a persuasive area official, she finally allowed her son to shave.

Gerald got pinned in his first match; but, being competitive by nature, he promised himself he'd never let that happen again. It was a vow he was able to keep – going undefeated for two straight years to finish out junior high as a two time city champ at 126 and 145 lbs., respectively.

At Southview High School, Coach Dan Ternes gave him his wrestling moniker – "G.T. Taylor" – as it would seem more impressive and intimidating than just "Gerald." Wrestling for Southview, G.T. compiled a stellar, ever-improving four time letter-winning varsity career with a record of 112-12-1 en route to becoming Southview's fifth State Wrestling Champion.

Aside from being an outstanding athlete, Gerald was a role model for all students and well liked by his peers. He was very goal oriented. Gerald Taylor left his legacy as one of the top athletes ever to walk the halls of Southview.
| | | | | | | |
| --- | --- | --- | --- | --- | --- | --- |
| Year | Class | Weight | Sectional | District | State | Record |
| 1984 | Freshman | 155 lbs. | 4th | Qualifier | | |
| 1985 | Sophomore | 155 lbs. | 2nd | 2nd | 3rd | 35-1 |
| 1986 | Junior | 167 lbs. | 1st | 1st | 3rd | 35-1 |
| 1987 | Senior | 167 lbs. | 1st | 1st | 1st | 36-0 |
G.T. was also a three year varsity letter winner in football, with 1,400 plus yards, 16 touchdowns, and an honorable mention as an All-State Running Back his junior year. He was unable to finish his senior year of football due to an injury. Gerald was inducted into the National Honor Society at Southview. During his senior year, Gerald received offers from Arizona State, Oklahoma, & Oklahoma State amoung others. He elected to attend Arizona State University on a full wrestling scholarship. G.T. chose ASU because of the outstanding program, coaching staff, and "hot weather".
Gerald was named a 1988 NCAA Freshmen All-American for qualifying for the NCAA tournament. He was a member of the 1988 National Championship team won by ASU. He was also a member of the 1989-90 and 1990-91 NCAA national runner-up teams. He was a two-time NCAA Division I All-American by finishing seventh in both 1990 and 1991.
He graduated from ASU in 1992 with a B.S. in Sociology and is currently a member of the ASU wrestling Advisory Board. Gerald lives with his wife, Karen, and three sons: twins, Logan and Jordan and Rylan in Peoria, Arizona. G.T. was previously inducted into the Lorain County Wrestling Coaches and Officials Association Hall of Fame in 2003.