Wright, Eddie
Eddie Wright – (2009)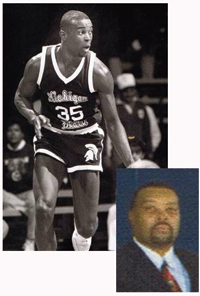 While attending Lorain High School from 1980 – 1984, Eddie Wright became one of the premier basketball players in the school history. As a "triple-threat" team-player, he combined leadership, tenacious defense, and high-scoring to help lead his teams through a four-year span of winning records. Head Coach, Dale Reichert remembers him as an "ideal" young man to coach-always willing to be receptive to coaching. Eddie was a strong contributor to his teams even as a freshman.

Eddie established a single-game scoring record of 47 points; he set a new season scoring mark with 565 points and he established a new career scoring standard of more than 1,500 points. Coach Carl Hartman ranks him as one of the top two or three players that he coached over a thirty-year period. Over his four-year career at LHS, he consistently led his team in virtually every statistical category.

His LHS honors include being named to the All-Buckeye Conference Teams in 1982-83 and 1983-84; and, he was named Team MVP and All-Ohio Second Team his senior year.

Outstanding success in Eddie's career continued as he enrolled at Alvin (Texas) Community College in 1984. After the 1985-86 season he received the honor of being named to the Junior College All-American Team.

Now he was prepared for one of the biggest basketball "stages" in America, Michigan State University. He was recruited and subsequently coached by Judd Heathcoate during his career at MSU. As a starter during the 1986-87, and 1987-88 seasons, Eddie made major contributions to his team as a scorer and was named "Defensive Player of the Year", and, served as a Tri-Captain during his senior year. He was also the only LHS cager from the modern era to start on the hardwood in the Big Ten Conference.

Eddie's outstanding play at Michigan State eventually earned him a listing amoung the "Decades Elite" in the East Lansing College's basketball annals. Eddie appeared in many nationally televised games.

His education includes an Associates Degree from Alvin, Texas Community College, and a Bachelor of Arts Degree from Michigan State University. He is employed by the State of Ohio.

Ed's family includes his wife Mercy, sons Montraill, Montelle, Edward II, daughters Tameka, Kiana, Ashley and Jaemarie.