Yurovich, Daniel
Daniel Yurovich, 2014
On the sports field, and as a scholar, Daniel Yurovich excelled at Lorain High School. In addition to earning two varsity letters in football, he received three baseball and one basketball letter.
Dan served as the President of the National Honor Society, Vice-President of the Student Council and was elected to Buckeye Boys State.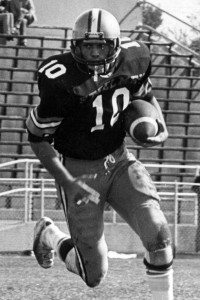 Yurovich played as quarterback in his junior year and as a senior he was a two-way player at quarterback and at safety on defense.
Steelman football coach Doug Thompson said, "Dan is the best defensive safety I've coached in 16 years at Lorain High."
Dan's play in his senior year resulted in numerous awards. He was named to the All-Lorain County First team, All-Buckeye Conference First Team, All-Ohio First Team, Northeast Ohio District Team, Best Defensive Player in Lorain County and was selected by the Elyria Chronicle-Telegram as one of the Defensive Backs of the 1980's Decade. In 1980, Yurovich won the Danny Award as the Most Outstanding Lorain High Athletic Scholar. He also  received the Lorain Sports Hall of Fame J. Ed Uland Memorial Award as an outstanding scholar athlete and was runner-up for the Lorain County Golden Helmet Award.
Following high school, Yurovich received an appointment to the U.S. Naval Academy, where he was deeply involved in intramural sports. He and his team members were either champions or runners-up in football, basketball and softball programs. In the boxing ring, Yurovich went undefeated (20-0) in his four years at the Naval Academy. He was the runner-up as the Brigade of Midshipmen, Intramural Athlete of the Year, 1985, among his class of 1,057.
Dan is President of Hearth and Home Technologies' Fireside subsidiary. He and his wife, Becky, are parents of two sons and reside in Harrisburg, PA.