Tirado, Jose
José Tirado, 2014
José Tirado's football career started at Whittier Junior High School in Lorain, built up through four years at Southview High School and came to a spectacular conclusion in 1978 when he was the leading receiver on the Baldwin-Wallace College NCAA Division III National Championship Team in the Amos Alonzo Stagg Bowl.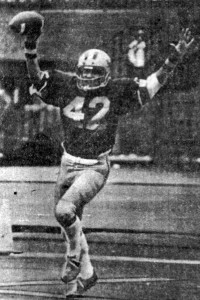 José attended Southview High School from 1970 to 1974, where he earned three varsity letters in football and was a four-year letterman on the track team. His outstanding performance as a wide receiver earned him All-Northeast Ohio Conference Honors in his junior year, and he repeated the honor in his senior year and was also named to the UPI All-Ohio Second Offensive Team.
Tirado was awarded a football scholarship to Penn State University where he played his freshman year, however, he then transferred to Baldwin-Wallace College in Berea, Ohio, to play for the legendary Coach Lee Tressel. After sitting out his sophomore year because of the transfer rule, José was a two-year starter as a wide receiver.
As a junior, José was a vital part of the B-W offense with 18 receptions for 221 yards for the 1977 Ohio Athletic Conference Championship team.
Tirado's senior year was crowned by winning the 1978 NCAA Division III National Championship in the Amos Alonzo Stagg Bowl. During the playoffs he caught a record four touchdown passes. His season totals were 45 receptions for 595 yards, averaging 17.5 yards per catch, and five touchdowns.
José is Director of National Accounts for the Biotest Pharmaceuticals Corporation. He and his wife Sandra
have two children and reside in Downey, California.