Frank, Brad
Brad Frank, 2014
Brad Frank attended Lorain Senior High School from 1968-1972 and excelled in basketball. As a sophomore, he posted a season scoring average of 8.3 points per game. In his junior year, he was named to the All-Buckeye Conference second team while posting a season average of 18.4 points and 11 rebounds per game and a single game high of 41 points. He had an outstanding senior year averaging 20.7 points and 10.7 rebounds per game and had a single-game high of 43 points. He was the all-time career scoring leader, at that time, with 998 points.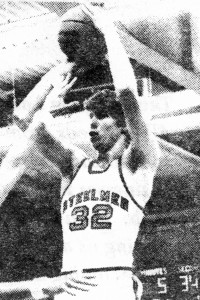 Brad was named to the All-Buckeye Conference First team, the Sectional Tournament MVP and was an All-Ohio Team Honorable Mention.
After graduating from high school, Frank was awarded an athletic scholarship to St. Clair County (Michigan) Community College where he played for two years averaging over 18 points and 10 rebounds per game. He was named to the Blue Water Classic All-Tournament team and the Michigan Community Interscholastic Central All-Conference Team.
Frank then received a scholarship from the University of Minnesota-Duluth to continue his basketball career. In the 1974-75 season Brad scored 280 points in 25 games averaging 11.2 points and 6.9 rebounds per game while shooting 78% from the free throw line and 49.2% from the field. In the 1975-76 season he averaged 10.5 points and 3.4 rebounds per game while playing in 23 games and scoring 241 total points, while shooting 68% from the
free throw line and 51% from the field. He led the team in scoring average per game. He graduated in 1977 with a Bachelor's Degree in elementary education.
After graduation, Brad returned to Lorain where he served in basketball coaching roles in the Lorain City Schools. Now retired after 30 years in teaching, Brad and his wife, Julie, and family reside in Amherst.