Turton, James
James Turton, 2014
Jim Turton was an outstanding two-way varsity starter at offensive guard and defensive end/linebacker for the Lorain High School Steelmen in 1957-60. He was only 5'9" and 160 pounds, but was praised as an inspiration to others by his coach, Art Lave. The very successful coach of the Steelmen said that while Turton was often outweighed by his opponent, he proved that with his speed, quickness, agility and tremendous desire, he could hold his own on the line with the best of the biggest. Jim was also a three year leader and sprinter on the track team.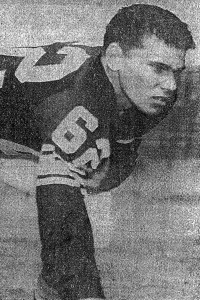 On offense, he was rated excellent at pulling and leading plays for the speedy running backs, and was also an outstanding downfield blocker. On Harold Jones 66-yard touchdown run against Lakewood, Turton was praised by legendary Lorain Journal sportswriter Hank Kozloski for being instrumental in opening a massive hole for the runner. Jim came through with big blocks often for the 1959 team which shared the Buckeye Conference championship and was ranked 9th in the state by the United Press.
On defense, his catlike reactions made him a tough defensive player.
Turton also was a true team leader. He was voted by the team to be co-captain with Ray Martin.
Jim was named to the Buckeye Conference All-Star First Team and the Columbus Junior Chamber of Commerce All-Ohio Offensive First Team in 1959.
After graduation, he joined the military service to serve our country and was a member of the U. S. Army Football team in West Germany.
Jim is owner of the Harbourtown Travel Agency in Vermilion and resides in Lorain with his wife Evelyn.