Guerrieri, Victor
Victor Guerrieri
Vic Guerrieri distinguished himself in basketball at Admiral King High School and Oberlin College. As an Admiral King High School junior, Vic was a defensive and occasional offensive contributor on the 1966-67 team featuring Admiral King Lorain Sports Hall of Fame great, Jim "Bubbles" Harris.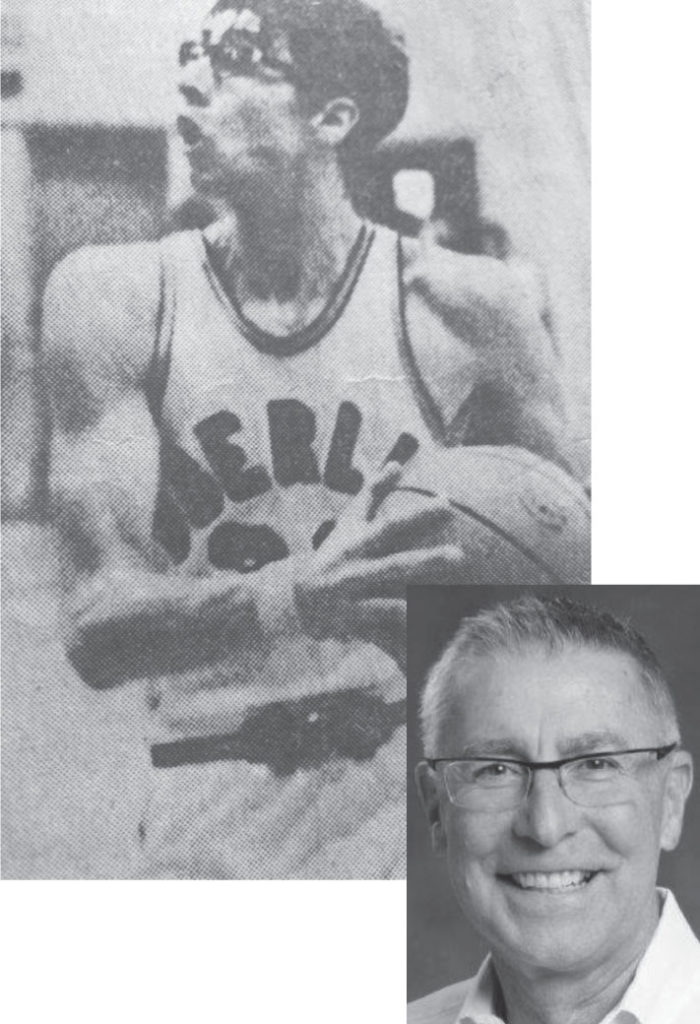 That team finished 21-2 and was ranked #2 in the State of Ohio. During his senior year, Vic led The Admirals to a 17-7 record and a "Sweet 16" berth in the Ohio State Basketball Tournament, winning both the Sectional and District Tournaments under Coach Al McConihe. Vic finished his senior year at Admiral King High with a total of 433 points and an outstanding 18.0-average-per-game. He was selected to the All Buckeye Conference First Team his senior year.
Vic provided one of the most memorable shooting performances in local history in a regular season game at traditional rival Elyria High. In the 4th quarter, Vic scored 20 points, hitting 8 straight long-range jump shots, including the final shot to send the game into overtime. Vic finished the evening with 41 points as Admiral King won in overtime.
Vic continued his athletic and academic career at Oberlin College where he earned four varsity letters. As a sophomore, Vic led Oberlin to a 16-6 record and the team's first, ever, Ohio Athletic Conference (OAC) Tournament Championship. During his junior and senior years Vic averaged over 23 points-per-game, becoming the first basketball player in the school's history named to an Ohio Athletic All-Conference First Team. He scored 1,651 points in four seasons, the third highest all-time at Oberlin, and owned a 19.7 ppg. career scoring average. Vic had a single game high of 43 points in a 107-72 win over Carnegie Mellon University during his senior season, establishing an Oberlin record that stood for 15 years. His 20 field goals in a single game still stands as the Oberlin College record.
Vic was a two-time Academic All American in 1971 and 1972. He was inducted into the Oberlin College Hall of Fame in 1991.
An excellent student, Vic earned a Bachelor of Science degree in Chemistry at Oberlin College. He won numerous academic honors and received a post-graduate scholarship from the NCAA to continue his studies at Stanford University, where he earned an M.A. degree in Education.
Vic spent his entire professional career in various sales and sales leadership roles at hi-tech companies in the San Francisco Bay area. He is retired and enjoys time with his two sons. The oldest is Matthew, 33, who is married and lives in Austin. The youngest is Trevor, 26, who lives in San Francisco. One of Vic's favorite pastimes is golf with his wife, Nelli.